If you are a small business owner or someone dreaming of being one someday, you know one of the biggest hurdles is finances. Many people have dreams that never come true simply because they can't get a bank to work with them. Security State Bank has been servicing small businesses in Lewis County since 1903, giving them expertise and opportunities that only a local bank can.
"We have six lenders that travel Lewis County and the surrounding counties so customers have a face to talk to," says Andy Alexander, senior credit officer at Security State Bank. "A lot of bigger banks aren't going to spend a lot of time on someone small. But we are local. That's our niche. We know our customers and they know us."
Security State Bank is the leader in small business lending for our community. A large part of that has to do with the expertise that comes with their services. Collectively, their six lenders and the administrative staff at the 442 NW Chehalis Avenue location have more than 250 years of experience in commercial lending.
Local Knowledge Leads to Greater Success for You
With all those years of experience, the team at Security State Bank has worked with just about every type of business, from building contractors and beauty salons, to logging companies and truckers. The bank has helped almost every type of agriculture business, from dairies to berry growers. And they share this knowledge with those seeking their services. This includes giving businesses a roadmap of what to do next should they not initially qualify.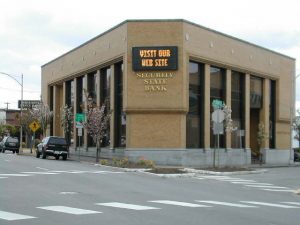 "It's in our best interest that our clients succeed because it's our community as well. We live here and want the economy to do well," says Sue Rosbach, Vice President and Commercial Loan Officer.
For example, they had a customer who was concerned about the effect the presidential election might have on the manufacturing industry. Their lender took time to read articles discussing forecasts and then passed this information on to the customer.
"We were born and raised here. Our clients are our neighbors," Alexander adds. "We are going to see them at the grocery store, at T-ball games, at church. This makes us work hard to treat our customers like we would want to be treated, because you are going to see them in the community. We have to answer to our clients every time we see them."
When it Gets Tough, Security State Bank has Your Back
One of the most telling things about a bank is what they do when the going gets tough. Rosbach was the Senior Credit Officer during the hard-hitting economic downturn in 2007-08. She says being local is what helped them – and the community – continue on. "We were lucky because we have local people, local knowledge and local compassion, where the big banks didn't," added Rosbach.
"Everybody had the same issues, it was just how they handled them that made the difference," explains Alexander. He added that the good relationships built with customers over time also made a difference. "It was really our relationships with our customers that helped us work together through those tough times," Alexander explains. "These businesses are still banking with us today because they know we treated them fairly."
During the large floods in 2007, Security State Bank implemented special programs for their customers who were devastated by the flooding. "We had a lot of farmers who were affected and we worked with them until they got back on their feet," Rosbach explains. "It was very appreciated by them."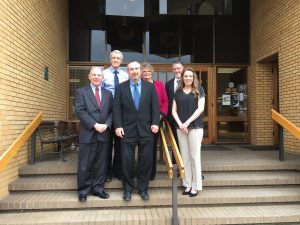 It all amounts to flexibility. Security State Bank can make things happen that a big bank just can't, or won't, do.
Lines of credit are really important to small businesses to get through seasonality, Alexander explains. "We look for collateral to support those lines of credit, whereas a bigger bank may not take the time, especially for a small dollar amount."
Along with their local expertise, Security State Banks offers the same commercial services as big banks:
Working Capital
Equipment Financing
Commercial Real Estate Loans
Agriculture Loans
Lines of Credit
SBA Loans
Letters of Credit for Domestic and International Trade
In addition, they have a special offering called "Business Manager" that's basically a line of credit for someone before they actually qualify for a line of credit. For example, a brand new business would get an advance based on their receivables, Alexander says. He adds that this is popular for truckers, who may need to buy fuel or get repairs, but haven't been paid yet. It is also great for newer businesses that are growing faster than their available cash allows. It's just one more way they invest in our community and help out the small businesses that keep our economy going.
And they are quick. For most loans under $500,000, on average decisions are made within a couple days of the client providing the paperwork. For bigger loans, the average decision time is usually under two weeks.
Ready to start your own business or expand an existing one? Contact Security State Bank's Commercial Loan Department by calling 360-748-8648 or simply stop by their offices in downtown Chehalis. More information can also be found on their website.
Sponsored