The decor inside Ramblin' Jacks RibEye in Napavine is exactly what you would expect from a restaurant with a giant Hereford cow on the roof – heavily western with a dash of Americana thrown in. Every nook and cranny, every wall, has something on it for your eyes to look upon while you dine upon their delicious food.
Although you may be tempted to think the owners, Adam and Amanda Adrian, just bought a bunch of western-themed replica decor from a party store, what makes this decor so special is that it's the real deal.
Amanda's grandfather, "Grandpa Bob" Crossland, lived on a ranch in the San Joaquin Valley in California. A lawyer and gentleman farmer, he had a large "party barn," with seating, a dance floor and a kitchen. Outside, he had huge barbecue pits. He used the space to host parties. Amanda says her grandfather "loved nothing more than bringing people together to eat and celebrate."
Bob built his collection through friends who gifted him with objects, as well as through trade for his legal services. When he passed, these items remained in the barn, but slowly began to gather dust. The family still owns the property and barn, and when Amanda and Adam purchased the RibEye and set about remodeling it, they could think of nothing better than to use her grandfather's memorabilia.
Throughout the RibEye are raisin boards – wood boards used to dry raisins – and displayed on them are items people brought to Grandpa Bob's barn over the years. Often the items were things the people used, or part of their business. "One guy owned an ice house and so we have one full of ice house tools," says Adam. "Probably 85 percent of the decor in the restaurant is from his barn."
Most of the pieces have stories and if Adam or Amanda are around, they are glad to share them with you. For instance, the large hay harrow in the banquet room is from the turn of the century. "Somebody owed Grandpa Bob money and they were like 'Can we give you this instead?' and he said, 'Sure,'" Adams explains. "He was always getting stuff from everyone he knew."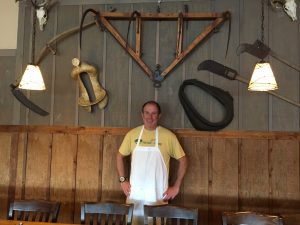 Carrying on the Tradition
The rest of the decor in the restaurant has come in just the way Grandpa Bob would have wanted – from co-workers, family and friends. Arguably their most famous – and definitely the cutest – piece of decor is a jackalope that welcomes hungry customers at the hostess table. This piece was found by Brian McSharry, the restaurant manager, while he was on vacation. The jackalope has quite the personality in the restaurant and you will notice his name changes frequently – currently he is Lightening McQueen. "We give kids coloring sheets of the jackalope and we let them name him," explains Brian. "Each month he gets a new name."
Many of the saddles have been brought in by people, including their bookkeeper. "People just donate stuff as we go along," says Adam. "It's really fun."
Local Flavor
The restaurant has many local pieces too, including the large Hereford farm sign that hangs in the bar. They had bought it from an antique dealer. The woman whose farm it was from came in one day and was overjoyed to see it – she had no idea they had it and were preserving it.
In addition, the murals in the restaurant were all painted by a local artist, Vince Ryland. One of these murals pays homage to the original homestead that was there before I-5 came in, the Hamilton Turkey Farm. Next time you are in, look for the painted sign above the kitchen area. The metal sculptures were created by a local artist in Aberdeen. Even the tables, were sourced and edged by a waitress's brother, who lives in Centralia.
Amanda and Adam wanted to meld the original RibEye offerings with the smoked meats they serve in their restaurants up north. This includes using local food and vendors. For example, Adam opened his first restaurant in 1998 and has been using L&E Bottling since that time. "They have been super good to us over the years," he says. "For example, the volume at this restaurant has been increasing and we got to a point where we didn't have enough ice to make it through the weekend," explains Adam. "I called them on a Friday and within in a week we had another ice head installed. Their service has been spot-on for 20 years."
A now-retired delivery driver for L&E Bottling even gave a saddle to the restaurant. It's still on display.
"We try to support everyone local. Our lending company is local, L&E Bottling is a local distributor, we have someone who casts our sausage in Rochester, and we have someone who drives over to Eastern Washington and buys our produce for us," Adam adds. "We want to support the local economy. We want to support the people who support us."
You may come in for the amazing homemade corned beef or the famous one-pound cinnamon roll, but you stay to gaze at all the wonderful pieces of the Old West that are hanging on the walls. What makes the Ribeye's décor so unique and interesting, is the history behind it, so be sure to ask about it next time you stop in for some delicious local, homemade food.
Ramblin' Jacks RibEye is located at 1336 Rush Road, Napavine. For more information, visit the Ramblin Jacks RibEye website or call 360-748-6066.
Sponsored