Even though it was a Monday, and the kids had school, I couldn't imagine going to the hatchery without them. Besides, it's educational, I told myself. So we set out for The Cowlitz Salmon Hatchery, which is the largest in the state of Washington and the third largest in the nation. With credentials such as these, it is well worth a visit.
The Cowlitz Salmon Hatchery is funded by Tacoma Power and managed by the Washington State Department of Fish and Wildlife. It is located downstream of Tacoma Power's Mossyrock Dam, the tallest dam in Washington State, which produces enough hydroelectricity to power 78,000 homes. We stopped at the dam too, the expansive view taking our breath away.
Originally built in 1967 in conjunction with the construction of the Mossyrock and Mayfield Dams, the hatchery was remodeled from 2006 – 2010 and features a self-guided visitor's center with hands-on activities. The marble run that represents the journey of a spawning fish was the favorite for the kids. There is a video tour as well where you learn about the life cycle of a salmon and what the Cowlitz hatchery in particular is doing to conserve salmon populations.
As you can imagine, they hatch a lot of fish at the hatchery. Eggs are kept in incubators until they hatch, and then in holding pools until their yolk sack is absorbed and they are old enough to eat, then they're moved to the outdoor juvenile "raceways" or pools. These pools are surrounded by netting to keep out predators (and people too). As we peered into the water, we saw that it was alive with tiny fish.
"All fish at the hatchery have to be mass marked so that fisherman can tell if they can keep them or not, the adipose fin is clipped," explains Larona Newhouse, Cowlitz Salmon Hatchery manager. A salmon who still has its adipose fin is a wild salmon and must be released. The hatchery fish are identified by their missing adipose fin.
Clipping was in progress while we were there. The fish were sucked through a tube into a mobile clipping trailer, inside the fish travel through a pool of water that sedates them, and then workers efficiently clip them and send them on their way. I asked the ladies clipping if their hands become pruned and was given the opportunity to try my hand at fin clipping, but I declined.
Once young salmon are of age, they are released to swim downstream until they reach the ocean. A salmon will spend one to eight years out at sea before returning to the river of its origin to spawn. Their ability to hone in on the river they were born is a fascinating adaptation.
The perilous journey home brings the salmon up river until they are diverted below the hatchery by a barrier dam with an electric grade that channels them up the fish ladders to the hatchery. At the hatchery, they will be sorted. Salmon that had been clipped as young fish will become brood stock in the hatchery while fish that have no such identifying markers are trucked up river to spawn naturally. The remodeled facilities handle these returning salmon like a well oiled machine.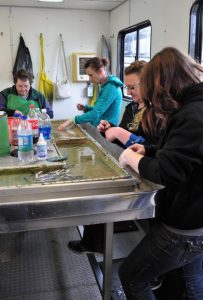 The juveniles resulting from wild salmon are captured above the dam. Explains Newhouse, "They have a new smolt collector that is collecting the out-migrating smolt. They capture them there and then truck them down here and put them in stress relief ponds where we hold them for 24 hours and then let them go. Basically we want them to imprint on the watershed here." I had to look-up smolt, which are one- to two-year-old salmon. They remind me of the teenagers of the fish world, ready for adventure.
Newhouse says there is no down time at the hatchery. "We have fish year round. Right now we are really busy with mass marking. We have all the babies out of the incubators and now we start feeding them outside. We do a 1.7 million release on spring Chinook. They all have to be clipped. A 3.5 million release of fall Chinook. They all have to be clipped. A 2.2 million release of Coho. They all have to be clipped." Newhouse relates these staggering numbers with a chuckle. I imagine very pruned hands clipping all those fish.
To see some serious fishery action, visit in the fall. "We have spring Chinook adults spawning in August and September. Then right after that is fall Chinook spawning and that goes until November. Then Coho right after that, which is November on to about February. So every Tuesday, people can come into the visitor center and watch them do the spawning."
Newhouse says the hatchery often takes part in outdoor education experience for school children and also in cooperation with Cispus Learning Center.
The Cowlitz Trout Hatchery will soon be undergoing its own remodel.
The hatchery is located at 199 Salmon Lane, Salkum, WA 98582. For more information, visit the Cowlitz Salmon Hatchery website.