The announcement was made prior to the tipoff of the Centralia High School boys basketball team's regular-season finale against visiting Rochester. Senior Hodges Bailey, had joined a select fraternity earlier in the year, becoming the latest Tiger to score 1,000 career points.
That total stood at 1,144 before Bailey netted a game-high 19 points in Centralia's 80-50 rout of the Warriors – a victory that secured the 2A Evergreen Conference's No. 2 seed into the Southwest District 4 tournament. It's a short list of players, and Bailey may be the only one who accomplished the feat without the benefit of a full junior season.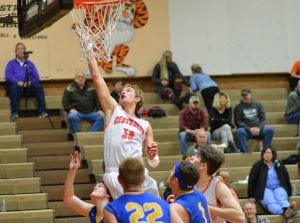 "It really is something," Centralia coach Kyle Donahue said. "He didn't play much last year because of an injury. He also didn't have a freshman season here because he transferred in before he was a sophomore. So you're talking about hitting that mark in basically two seasons."
Two very high-scoring seasons.
Bailey, a 6-foot-1 guard, is averaging 25 points a game this year for Centralia, which enters district play was a 14-7 mark. Before arriving in Centralia, Bailey helped Capital High School in Boise, Idaho, win a state title as a freshman. He immediately hit the ground running in his new surroundings, pacing the Tigers during his sophomore year, scoring 21 points a contest. He plans on playing both basketball and baseball at The Master's College in Santa Clarita, California, next year.
"I felt I had really grown as a player from my freshman year to my sophomore year," Bailey said, "and was really looking forward to continuing to improve on that last year."
Bailey, however, was never given that opportunity as a stress fracture in his foot limited him to just six games as a junior.
"It was just something that happened over time. It was just wear and tear," Bailey said. "It was originally diagnosed as a deep bone bruise. So I just kept going. I played a couple games, but it just didn't get any better. I was finally shutout in January. That was really hard. I had never been injured like this before."
Once back on the court this year, Bailey quickly picked up where he left off. He torched Steilacoom for a career high of 41 points in the Tigers' season opener, and since then 20- and 30-point outbursts have been the norm.
"He's multi-dimensional," Donahue said. "He can attack the basket. He can shoot from the outside. The best thing he did for us tonight (against Rochester) was how he distributed the ball. I think it was his best game getting the ball to guys underneath when they collapsed on him."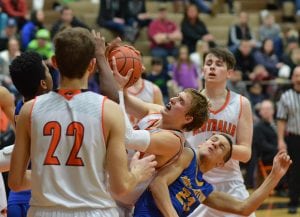 It's quite a different scene than at the start of the season when the new-look Tigers were searching for an identity.
"There was a struggle for them early on to find their roles and their places on the team," Donahue said. "We talked about it earlier in the season that a lot of these guys haven't played together in the past. Hodges was out last year with an injury. (Senior) Nick (Edwards) was out. (Junior) Jordan (Thomas) missed some time with an injury. (Sophomore) Tyler (Ashmore) wasn't here on varsity. It took them a while to come together as a team."
Another curveball surfaced in early January when long-time head coach Ron Brown, who entered his 56th this year with the Tigers, took a leave of absence from the team due to non-life threatening health concerns. Donahue, who played for Brown in the 1990s, was bumped up from his JV position and took over the coaching duties.
"When coach Brown stepped away they did a really good job of re-focusing as a team," Donahue said. "I think that brought them together a little bit."
Bailey and his Centralia teammates enter the postseason having won four consecutive games and eight out of their last ten, turning a potential fourth-place finish in the EvCo into a second-place performance.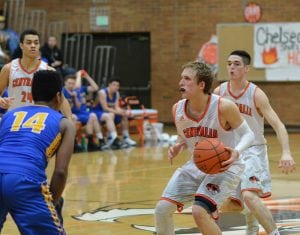 "I think everything that's happened has really shown who we are as a team and who we are as individuals," Bailey said about the team overcoming injuries and adjusting to the coaching shuffle. "We've kind of had everything stacked against us from the start. A lot of teams probably would have folded under all of that, but we ended up showing what we are made of."
The Tigers open district tournament play on February 11 by hosting Columbia River, the third-place team out of the 2A Greater Saint Helens League. Tipoff is scheduled for 7 p.m.
The top three teams out of the district advance to the regional round of the state tournament.
"We're not finished yet. We still have a lot of basketball to play," Bailey said. "It has to be a special year. It's our last one, and it's the first year under coach Donahue. We want to start off his legacy right."