After the kids have opened all their presents and played with them, they'll eventually get bored again. But don't worry, there are plenty of places to go and plenty of things to do in Lewis County to keep them busy for the rest of their break.
Whether they like being creative, playing games, visiting museums, or just getting outside, we have it covered.
Get creative
Central Glass Works
Be mesmerized as you watch the glass being blown or take a class to create your own amazing artwork. 109 W Main Street, Centralia
Bead Opus
Beading is always fun to do on rainy, cold days. Bead Opus can help you with your project and private workshops are also offered. 211 N. Tower, Centralia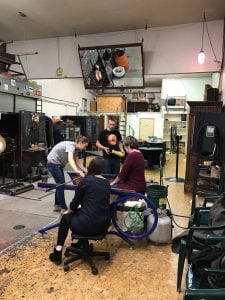 Ewe and I
How about learning to knit or crochet at the local yarn store? Lessons are offered for all skill levels. 566 N. Market Boulevard, Chehalis
Get competitive
Quesadilla Factory
Delicious food plus arcade games, X-Boxes, air hockey, a pool table, and ping pong are just some of the fun games available. 44 S. Gold Street, Centralia
Fairlanes Bowl
Bring back old-fashioned fun and take the kids bowling. Don't forget there is plenty to eat there as well. 1501 S Gold Street, Centralia
Shankz Black Light Miniature Golf
Miniature golf kicked up a notch! Play in the dark and in 3-D. 2100 N. National Avenue, Chehalis
Diversified Games
Another retro place with board games, card games, comics, and hobby toys. 551 N. Market Boulevard, Chehalis
Get entertained
McMenamin's Olympic Club and Theater
Sit back in a comfortable couch or chair, take in a movie, and enjoy a tasty meal – all in one place. 112 N. Tower Avenue, Centralia
Coming Attractions Theatres (Midway Cinema)
Popcorn and movies? Yes, please! There are plenty of kids and family movies out for the holidays. 181 NE Hampe Way, Chehalis
Roxy Theater
Run by a dedicated group of volunteers, the Roxy provides top quality movies in a historic theater. 233 W Main Street, Morton
Get educated
Lewis County Historical Museum
Learn about local history and play with the interactive displays while visiting this charming train depot. Open Tuesday-Friday, 10:00 a.m. to 4:00 p.m. Saturdays, 10:00 a.m. to 2:00 pm. Admission is $5 for adults, $4 for ages 7-18. Free to members and children under 7. 599 NW Front Way, Chehalis
Veterans Memorial Museum
An impressive display of military memorabilia and history, sure to enthrall all ages. A gift shop and military history reference library are also available. Open Tuesday thru Saturday 10:00 a.m. – 5:00 p.m. Admission is $6 per adult, $5 for seniors, and $4 per student or child under 18 years of age. Active duty military and museum members are free. 100 SW Veterans Way, Chehalis
Vintage Motorcycle Museum
Two stories of amazing motorcycles! Open 9:00 a.m. to 1:00 p.m. Tuesday through Friday. They request you call ahead at 360-748-3472 to confirm they are open before you visit. $5 admission. 545 N. Market Boulevard, Suite 101, Chehalis
White Pass Country Historical Museum
A display room, school room, and logging displays that will leave kids with a better understanding of the local logging history. Open 12:00 p.m. to 4:00 p.m. $2 for adults and $1 for children over 6. 12990 US Highway 12, Packwood
Timberland Regional Libraries
For a free thing to do that works for just about any age group, don't forget all the Timberland Regional Library locations. Check out one near you for activities during the break, or simply go in and sit and enjoy reading for fun. Check the websites for each location's hours. Libraries are located in:
Get active
Centralia Rollerdrome
Open skate times, lessons, arcade games, and snack bar. Open extra hours during break, plus an All-Night Skate on New Year's Eve. 216 W Maple Street, Centralia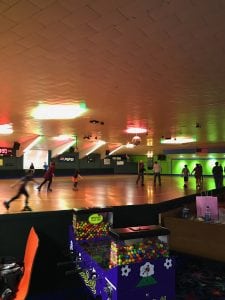 Thorbeckes Climbing Wall
Tackle that 30-foot climbing wall in an indoor setting. Free for members and $15 for nonmembers. 91 SW Chehalis Avenue, Chehalis
Thorbeckes Aquatic Center
Pop in during the open swim times, take a lesson, or bring a pool float and watch the Dive In Theater on Friday nights. 2020 Borst Avenue, Unit 2, Centralia
White Pass Ski Area
Ski, snowshoe, snowboard, take lessons, or just play in the snow. 48935 US Hwy 12.
Lewis County Trails
To keep the family from getting cabin fever, it can be great to get them outside, even in the winter. Lewis County is home to a great trail system where you can ride bikes or take a nice brisk winter walk. All you have to do is bundle up! There are six official trails your whole family can enjoy:
Willapa Hills Trail
Airport Levee Trail
Borst Park Trails
Seminary Hill Natural Area
Walking Trail at Riverside Park
Discovery Trail along the Chehalis River