Maybe when you were single or childless, you would throw your skis onto the top of your car and run up to White Pass at the drop of a hat. Days spent footloose and fancy free, feeling that joy of swooshing down the slopes time after time, weekend after weekend.
But now you're a parent. Do you have to hang up the skis? Nope, not with White Pass Ski Area so close by. They do everything they can to help the whole family have fun in the snow.
Starting when your child is two-years-old, the ski area has you covered. The child care center provides high quality care, typically staffed with retired teachers, so that you can still get out and ski, snowboard, or take that quiet hike on snowshoes. Kids up to age six will be entertained and educated while you are hitting the slopes.
White Pass Ski Area also offers an inexpensive way to introduce your child to skiing or snowboarding through their PeeWee Skee clinics (starting at age 5) on weekends and holidays. Kathleen Goyette, spokesperson for White Pass Ski Area explains what happens. "The learning center provides the classes so they are trained, certified instructors. The little strap-on-skis they use are great and it's a wonderful way to introduce children to the sport."
Kids ages 5-12 can also register for Kids' Clinics to work on their skills, with lunch, snacks, and lift tickets included. Goyette is excited to announce that new for this year is that the clinics start December 18 and they go through the end of March, alternating each week. "So if kids are registered for the whole season of one- or two-day clinics, then by the end of it they have been on all the runs on the mountain," says Goyette.
Goyette advises parents to make sure they make reservations and plan ahead if they want child care on the weekends. "We don't want people to be disappointed. We always sell out," she explains. "But during the week is a great time for families to make last-minute plans. Most of the time, parents have the chance to wrap up skiing early so then the can get the kids and take them out and just play in the snow for a while."
Across the road from the ski area is the Nordic Center, where you can cross country ski or rent snowshoes out of the yurt. It's an easy hike around Lake Leech for the whole family. Lessons are also available for newbies here as well. While snowshoeing has always been a great family activity, there is a new offering at White Pass this year. Snow shoe tours, led by a biologist, will educate participants about the local habitat, flora, and fauna as they take their walk. The walks will kick off on December 26 and run weekends and holidays at 2:00 p.m.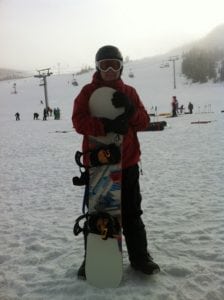 Another piece of breaking news is a new program for third graders to ski or snowboard for free! Starting December 1, any third grade child who completes a 20-minute ski/snowboard safety lesson will be eligible for a free season pass. "We have been participating in the Fit Kids program since 2004," explains Goyette. "Research has found that at third grade, kids still feel like anything is still possible as far as physical activities. Then by about fourth grade, kids start doubting themselves and their abilities. They are less likely to try new things because they don't think they can do it and don't want to be embarrassed. Learning and understanding that was a great experience for all of us."
In addition to the Kids Clinics, White Pass offers an EZ Ski/Ride package. There are three age breakdowns for pricing. Children (ages 4-6), Juniors (ages 7-15), and adults (16 on up). It is geared toward beginners, so includes lessons in the basics. It can be used on any three days of the season, and includes lift tickets and rental equipment.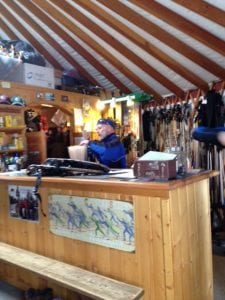 Introduction to Skiing and Snowboarding packages are also available. The two age breakdowns for pricing are children up to age 15, and adults 16 and up.
Group and private lessons are also available for those who prefer individual learning or only with friends.
Once the kids get really good on the snow, there are other activities provided by White Pass, such as the Ski and Snowboard Club. Kids ages 6-18 can participate in the Alpine Racing Program, learning how to take their skills up a notch by racing.
To add to the family fun, plan on staying and eating at White Pass as well. White Pass Village Inn offers cozy lodging, and there are eight dining options on the mountain to refuel the kids. Gift certificates are also available so if you like to give your kids or grandkids experiences for Christmas or birthdays, ski or snowboard lessons is a unique and creative idea.
White Pass Ski Area
48935 US Hwy 12
Naches, WA 98937
Business Office: 509-672-3101
Snowline: 509-672-3100