After marijuana became legal in Washington, many shops selling smoking accessories made their spaces more inviting to passers-by and first-timers who wanted to learn more about the cannabis subculture. For Wyatt Teitzel and Jennifer Thomas, co-owners of 710 Beans and Glass in Centralia, their solution was to include local artwork and crafts on the shelves, and to feature locally produced coffee beans alongside the handcrafted glass pipes.
The juxtaposition of these items results in a "fringe art" gallery with an eye for the peculiar and offbeat, and creates a unique atmosphere. "We wanted a more comfortable feel now that marijuana is legal," says Jennifer. There's more people opening up to it, more people curious about it. We didn't want people to be overwhelmed by images of pot leaves and tie-dye."
Prior to its opening in May of 2016, Jennifer and Wyatt had the idea of adding coffee beans and marijuana accessories as a means to expand their inventory and increase revenue. "Wyatt and I are artists, but we knew that art wouldn't be the primary source of our income, so we just tried thinking of different things to incorporate with an art space so that it would be profitable."
For Wyatt, a metal sculpture artist and Centralia native whose work is on display at the Hyaena Gallery in Burbank, and who has created artwork for Slayer and Hank Williams III, the changes to the state laws were an ideal catalyst to sustain their business. "We like art, but we want to be able to afford a store to help grow the art in our community. We couldn't just open a gallery and pay the bills with art – it's not like that. Thankfully, with the legalization of weed, it's opened up a whole new door to a lot of customers, and I think that door is going to open wider once the laws get recognized and changed on a federal level."
It's no surprise that the handcrafted glass pipes, many of them created by local artists, fit right in with the other pieces of artwork in the store, and the owners treat them as if they were on display in a gallery, making sure the customers see the detailed designs and mesmerizing color schemes. "There's a lot of people who collect glassware, so there will always be a need for the artists who create the nice pieces."
The store also stocks inexpensive glass pipes, as well as the newer silicone models, which are shatterproof and easier to clean. "The 40 dollar piece is the one you want to leave at home. It's the nicer unit. We try to cater to everybody. You can't just have the top-of-the-line products, because not everybody can afford a 50 dollar pipe all the time. Some people just want to spend 10 bucks."
The coffee beans have their own section at the front of the store, with blends from Raven's Brew Coffee in Tumwater and Olympia Coffee Roasting Company. Ceramic coffee mugs are displayed alongside the beans, with a variety of styles to choose from. One of the long-term plans that Jennifer and Wyatt are working on is to sell coffee at the shop, and to feature their own blend for consumption and purchase. An espresso machine and grinders have already been purchased.
"We have a roaster here in town, and have got our own blend that we're working on," says Wyatt. "We're moving too fast for our own feet, because we don't have labels made yet." In the meantime, Wyatt and Jennifer are engaging in their own market research by giving the coffee beans to their friends and asking for feedback.
The first art show at 710 Beans and Glass was a Wizard of Oz-themed exhibit in July 2016. The majority of the artwork sold out on opening night.
"With our first art show, we hoped the artists would create their own twist on The Wizard of Oz," says Jennifer. With the classic movie monsters art show, we're huge fans of Frankenstein and Dracula. Every month is Halloween for us." Wyatt hints that there could also be a Krampus-themed art show to coincide with the holiday season, and encourages any local artists with a love of movies and pop culture to contact the store regarding future art exhibitions.
"We're always looking for new artists. The talent is out there, but there's no outlet for it. Who else is going to put a Creature from the Black Lagoon painting in their gallery?"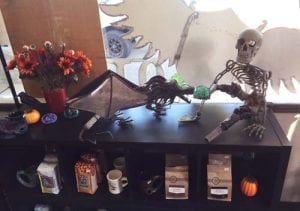 With its support for local artists and entrepreneurs and its efforts to create a friendly atmosphere, 710 Beans and Glass fits right in with the Centralia community, a throwback to the local shops where you could strike up a casual conversation with the people across the counter.
"Everybody has been super nice, and various businesses have been nice to us," says Wyatt. "It's really been a nice change to work at a place where customers come in happy, and to see the different types of people who come in. It's a labor of love, but it's life, it's been exciting."
710 Beans and Bongs is located on 710 West Main Street in Centralia. For store hours and upcoming art shows, visit their Facebook page.