They're like talking playbooks, the point and nod tipsters.
As the quarterback, Dalton Yoder is often the revisionist, shouting out audibles at the line of scrimmage as he reads the defensive formation. As the center, Seth Nichols calls out blocking assignments, pointing and nodding, "get him."
They're both four-year starters. And they're two big reasons why Toledo High School is undefeated and headed for the 2B state football playoffs with an unblemished 9-0 record.
"Those two are our leaders," Toledo coach Jeremy Thibault said. "We have a lot of kids who have contributed, but they're our leaders."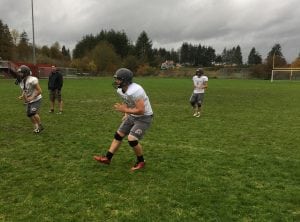 Yoder and Nichols are like coaches on the field.
"Seth and Dalton pretty much take care of it," Thibault said. "You don't know how much you appreciate them until they're not there next year. Seth is the ring leader of the offensive line."
Nichols' knack for leadership is especially significant for Hunter Eaton, a talented 6-foot-2, 240-pound sophomore who starts at guard. Eaton is partially deaf and sometimes doesn't hear Yoder call the play in the huddle. Nichols fills him in at the line of scrimmage.
"It's easier for him to be told to get a certain guy," Nichols said. "I'll just point or tell him what guy he's going to get."
For Nichols, who started the last four games of his freshman year and has been around, that's experience talking. He's learned to be that leader.
"By now it's pretty natural," Nichols said. "My freshman year it was a real tough thing for me, just knowing what everyone else was supposed to be doing."
So often a hearing handicap like Eaton's will hold a person back, keeping him from turning out for football. But not Eaton.
"He's a great kid," Thibault said. "His brother played for me. If you speak right to him, everything is good. But when Dalton is talking to 10 players he can't project right to him."
For opponents, Yoder is double trouble. At 6-foot-4, 235-pounds, he has the size and the speed to pack the football under his arm and scramble for another first down or to simply throw it deep. In a 27-0 win against Willapa Valley earlier this season, Yoder rushed for a team-high 115 yards on just 10 carries. Then in a 37-7 win against Charles Wright, he went 9-for-13 passing.
"He contributes in some way every week," Thibault said.
Depending on what the defense does, Yoder can be a passer or a runner. But Yoder's strength isn't his passing arm or his get-out-of-trouble scrambling. It's his decision making.
"His strength is he's a 3.9 GPA student," Thibault said.
That good sense has earned Yoder the permission to audible, changing the play at the line of scrimmage.
"We'll call a play and a lot of times he has free reign to call formations and check out of plays," Thibault said. "We run a lot of formations. It depends on the defensive lineup. He'll have games he looks like a pocket passer and then he has games where he looks like a running back out there. So, it's really nice when they combine together."
Both Yoder and Nichols are three sport stars. Yoder placed second at state in wrestling and he's an all-league pick in baseball. But their athletic talents haven't eclipsed the classroom. Nichols, who is in the Running Start program, has a 3.5 cumulative GPA.
Yoder credits his parents, Leslie and John Yoder, for helping him keep the focus on his grades and not on touchdowns tossed. His only B on his report card in high school came in an English class his freshman year.
"My parents have been on me about that ever since I can remember," Yoder said.
It's been the constant reminder to turn off the TV and do his homework.
"My mom has always been on me about it," Yoder said. "I get into trouble if I have a B. I have to give most of the credit to my mom. She was always on me about it."
For both Yoder and Nichols, sports have taught them the work ethic, the how to push themselves in the classroom. As a coach, Thibault has also seen how turning out for sports can help a kid mature socially.
"I don't want to say any names, but we had some kids on the team who were antisocial. Kind of hermits," Thibault said. "Their parents came up and said, 'Gee, our kid is nice. As a freshman, we were kind of worried about him. Now he hangs out with everybody. He's one of the guys. He's not withdrawn.' Stuff like that."
So, it's not just about the scoreboard for Thibault. Winning is important, but it's not the only reason he's coaching.
"Even if they don't get on the field, we treat them the same," Thibault said. "We let them know we love them basically."
It's a life lesson that's changing lives.