Step outside the ordinary with Quinault Beach Resort's annual Halloween Weekend Bash on October 27-31. With more than $21,000 in cash prizes and loads of specials, free game play, and the scream-tastic Nightmare Ball, it's a chance to dress up as—and possibly bankroll—a new, better you.
Creative Marketing Coordinator Nicolette Shanklin promises this will be a year to remember. "Oh my gosh, we have so much! It's the largest Halloween we've done!"
Prepare to win Coffins of Cash on Thursday and Friday, October 27 and 28. Q-Club gaming members who earn 250 base points will be entered into drawings for coffins from the on-site graveyard…and they won't be empty. With drawings on the hour from 5:00 p.m. until 10:00 p.m. both days, lucky participants could win free game play. Cash prizes will also be awarded and one winner will take home $5,000 in cash.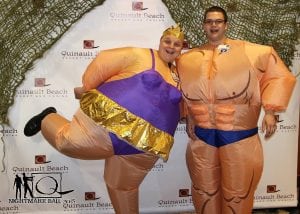 Saturday, October 29, is the ghoulish Nightmare Ball. From 9:00 p.m. until midnight, don your finest costume and enjoy finger foods (with or without real fingers), a commemorative cup filled to the brim with Blood Bath Brew, and enter into the costume contest for only $20.
Kiss Army, the ultimate KISS tribute band, will take to the stage around the Kiss of Death Costume Contest. Prizes of $500 will be awarded to the Best Couple, Scariest, and Most Original costumes with $1,000 going to Best Group and Sexiest Costume.
Please note that costumes may not include weaponry and neither face paint nor masks are allowed on the casino floor.
On arrival at the Nightmare Ball, all costumes will be photographed while judges mingle to choose their top five favorite costumes. At 11:30 p.m., finalists congregate on the dance floor for the exuberant audience to choose winners. Check the Quinault Beach Facebook page afterward for your boo-tiful—or scary—photo. Who says holiday cards must include ugly sweaters?
Survivors of the ball can stagger down to a Zombie Buffet Brunch from 10:00 a.m. until 2:00 p.m. on Sunday, October 30. Pair this with 5x Monster Multipliers on games from 9:00 a.m. to 9:00 p.m.
Too tired to drag your corpse home? Book a discounted stay at either the Quinault Beach Resort or nearby Quinault Sweet Grass Hotel. Use room code HAL2 for a two-night stay with two free Zombie Brunch tickets.
For the entire month of October, aficionados of glitz, glam, or gore can enter the Great Pumpkin Social Media Contest with prizes of free play galore. Simply submit a photo in all your Halloween glory through their Facebook portal to be judged online. Participants will be judged in categories of scariest costume, most original costume, sexiest female costume, sexiest male costume, best couples costume, and best group costume.
On Monday, October 31, the photos with the most likes on Facebook, Twitter, and more will be tallied and winners announced at 7:00 p.m. You must be present to win one of 15 total awards.
Purchase tickets for the Nightmare Ball online or by calling 888-461-2214. Can't make it Halloween weekend but looking for a pre-holiday getaway? Check out Quinault Beach's many events, room specials, and nearby attractions. Fewer than two hours from Centralia, it's an easy close-to-home escape.
Halloween is for dressing up as your inner self, be it friend or foe. And nothing says "Bring it on, winter!" like a pocket full of prize money and a belly full of Blood Bath Brew.
Quinault Beach Resort and Casino is located at 78 State Route 115 in Ocean Shores.