For a newcomer at the gym, where to start can be the big question. There may be new machines to learn, a routine to figure out or goals to conquer, but ultimately a gym offers major rewards over working out on your own—namely accountability, encouragement and expertise. A gym offers a strong place to achieve goals with people who are striving for similar fitness goals.
With Thorbeckes CrossFit, you don't have to do it alone. CrossFit is a unique way to get into better shape that doesn't use machines and avoids routine, yet works for people from different age groups, varying fitness levels, men and women alike. You'll see a range of people at Thorbeckes CrossFit, from those new to the workout to Stephen Angove, a 62-year-old CrossFit World Champion.
"If you care about your health, and you want help, CrossFit is the way to go," said Angove. "If you just go to the gym, then you're on your own. If you join CrossFit, you have somebody to hold you accountable. Somebody to encourage you and work with you."
Angove began his CrossFit journey in 2013 after his son, a doctor, recommended the program to him. A lifelong athlete, Angove enjoys a variety of sports, including basketball, football and racquetball. This makes CrossFit a great fit for Angove, because it provides him with a new workout and challenge per day. Never knowing what their next workout will be, athletes begin each session by completing whatever workout the trainer has assigned—varying between lifting, running, push-ups or jump ropes.
"You don't get a routine," said Angove. "It's good for your body to try different things, otherwise your body adjusts to doing the same thing over and over and doesn't get the same benefits."
Because Angove works full-time behind a desk as a CPA at his own accounting firm, he is especially mindful to keep fitness a priority.
"It can be challenging during tax season, but you have to get exercise and get your blood pumping. You have to make time for it," said Angove.
Even though Angove isn't currently training for a competition, he continues to stay in top shape, in case he should decide to compete. He works out five times per week, and abides by a paleo diet that is high in protein, but low in sugar and fat.
Sweat and self-discipline have paid off for Angove, who has placed second in his 60+ division at the CrossFit Games in 2016 and 2014, and fifth place in 2015. His other accomplishments include running a 5K in 25:32 minutes, deadlifting 410 pounds, and lifting 315 pounds in a back squat, according to his CrossFit Games bio.
In order to compete in the CrossFit Games, competitors 14 years and older must begin their training in February when open workouts are posted online every Thursday. Competitors will submit their scores the following Monday, where they will be ranked against others in their division.
The top-scoring athletes from each of the 17 regions will then qualify for regionals, a series of live, three-day competitions where the top athletes from two or three regions combine and compete for five qualifying spots at the CrossFit Games in Carson, California.
Finally, the competition concludes at the CrossFit Games at the StubHub Center in Carson, California. By then, the competition has been narrowed down to the world's 40 fittest men, women, teams, teenagers and 200 masters to determine the athlete who is the Fittest on Earth.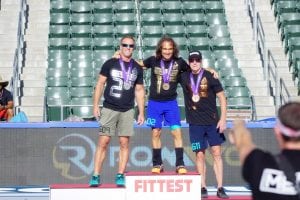 Although a majority of CrossFit members are under age 40, Angove considers his CrossFit community like a family.
"I'm working out with people who are in their 20s and 30s. Normally, I would feel intimidated, but everyone has been really encouraging," said Angove.
For anybody intimidated by CrossFit, Angove encourages you to start where you're at.
Newcomers are welcome to attend a free class, where they can meet instructors and learn the basics of CrossFit. Thorbeckes also provides a four-week Foundations course for all beginners on a rolling basis, introducing the movements and requirements needed for CrossFit. The program will mostly focus on the movement mechanics for the nine foundational movements of CrossFit. The program includes three weeks of Foundation classes and one week of CrossFit classes, all taught by certified CrossFit instructors.
Despite the time commitment for training and the difficulty of learning the different movements, the experience has been life-changing for Angove, who says he's in the best shape of his life.
"It makes you feel a lot better," said Angove. "You feel confident in yourself, and you're healthier. We were meant to move and not just sit around. I'm 62 and can still play sports."
Thorbeckes CrossFit
2020 Borst Avenue, Unit 2
Centralia, WA 98531
360-219-7173