When a loved one is in hospice, it can be extra hard on the family and caregivers. Shari Aldrich, owner of Bodymechanics School of Myotherapy and Massage, knows this all too well. Before she was a successful business woman, she worked in the medical field specifically with the hospice community. She shares with me how she's seen firsthand what massage can do to help alleviate some stress during this hard time.
"That need for touch…where people have gone their whole lives with not being able to express or share touch with people," she says. "It's really helping at such an intimate level."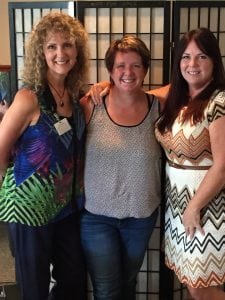 Shari says it's her own personal experiences with helping that have shown her how therapeutic hospice massage can really be. She tells me the story of one woman she worked on who was near 90, in hospice care, and had never had a massage. This can be quite common as the older generation grew up in a time when massage was still in the process of becoming popular. Shari went to the woman's home with her massage table and began to work on her.
She laughs as she tells me what happened. "I get to this area in her mid-back and she says, 'Get that spot.' She was a hairdresser and she said she tried for 40 years to get her husband to get that spot for her." It's the stories like these, pain that's years in the making, that Shari gets to hear about and help with. Or sometimes it's just the simple act of stroking someone's face while their family gathers around their bedside for their last day on earth.
"It's just being with somebody going throughout the death process. We're not trying to cure anything, just really comforting."
Shari says after she recently suffered her own traumatic injury, and had to have a finger amputated, it really drove her to look for a partner—an organization she could team up with to make a difference. At first, she says she looked at groups for amputees because it was personal to her, but it just wasn't quite the right fit. "I started doing some soul searching and the more I thought about it, the more I realized and took myself out of the equation, that I get a lot of people that come into my program that want to get involved in hospice work."
She's seen nurses and doctors come through the program just to get involved in hospice massage because they see the benefits.
It was then Shari realized just exactly who she wanted to work with, the same organization she had spent years working for before, Assured Home Health of Lewis County. They offer the Comfort Therapy Program, which provides services to people and their families that insurance does not cover, like massage. "This massage that is brought in—in a comforting way rather than a rehabilitative way—is what allows this movement of grief, this movement of emotions so that it can be experienced and released rather than blocking in our bodies. It's just huge," says Assured Home Health RN Candace Chaney.
The Visiting Nurses Foundation of Centralia works to make comfort therapy a success by raising money for the organization, and Shari serves on their board. Executive Director Jenny Collins watched when her own mother was in hospice care and saw what a difference something like massage can make.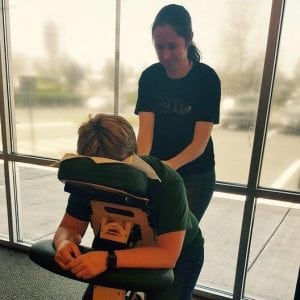 "The ripple effect after having a comfort therapy session was amazing. It lowered the level of anxiety, fear, sadness and grief we were going through. Watching her have some relief and be able to rest after a therapy session created this ripple effect for the family." She says the family was finally able to relax a little, even if just for that short time.
"The massage modality provides a level of touch and compassion that relives suffering in a way that medications alone can't do," adds Candace.
But it's not just about the hospice patients themselves. Caregivers struggle right alongside their loved ones and often don't take the time needed for themselves. "Self-care is out the window," explains Candace. "It's all about that patient. So by providing this service, we are addressing their needs as well. This will allow some self-care to occur, some honoring of what they're going through."
Jenny agrees and tells me caregivers often feel like no one understands what they are going through. "The power of touch and having somebody touch you and they know, you know they care about you. There's that sense of just you know, well, I matter. This matters."
That's where Bodymechanics comes in. Shari says the school will be donating three percent of their tuition money towards hospice massage for these caregivers. Students will gain priceless knowledge of the field and upon certification be able to actually work on hospice patients as well. Because Bodymechanics strives to turn out well-rounded community-oriented students, Shari says hospice massage fits right into their mission.
"I really want to highlight this concept of giving forward and taking if full circle," she says. "I just think it's the way of the future. I think that businesses that don't give forward and take part in their communities, they're missing out on something that's super important."
Bodymechanics
2330 Mottman Road #106
Tumwater, WA 98512
360-350-0015
Sponsored