Submitted by the Lewis County Historical Museum
The Lewis County Historical Museum has announced events throughout the month of October to help people get in the Halloween spirit. Billed as Spirited October, the museum has scheduled weekend events with a paranormal slant. All proceeds from the events will benefit the museum.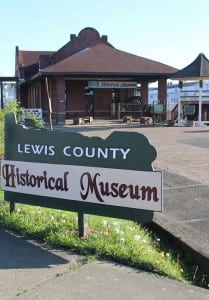 On Saturday, October 8, from 6:00 to 7:30 p.m., Pacific Northwest author and Paranormal Investigator Joe Teeples will be at the museum to share tales of real life vampires that he discovered when researching one of his books. Teeples will also have paranormal-themed books he has written on hand, available for sale and signing. The cost for the lecture is $10.
On Saturday, October 15, from 6:00 to 7:30 p.m., intuitive energy healer and author Karen Frazier will present a Crystal Healing Workshop. The cost is $15, and all proceeds benefit the museum. Frazier is the author of the book Crystals for Healing, as well as several other paranormal titles.
On Sunday, October 16, from 2:00 to 5:00 p.m., psychic medium and author William Becker will present a psychic development class. Cost is $25. Becker is a teacher and psychic life coach who has traveled internationally in his work.
On Saturday, October 22, from 1:00 to 3:30 p.m., the paranormal investigation team White Light Paranormal Insight will host a kids' ghost camp for youth aged 8 to 13. The camp will focus on teaching kids how to investigate using paranormal equipment in the haunted museum. Cost of camp is $15.
The evening of October 22 from 6:30 to 9:30 p.m., psychic mediums Seth Michael and AurorA will offer a gallery reading, helping audience members connect with loved ones who have died. Seth and AurorA regularly perform gallery readings for audiences in Portland. Tickets are $35.
On Sunday, October 23, from 2:00 to 4:00 p.m., Karen Frazier will return to the museum to lead a dream interpretation workshop. Frazier writes a monthly dream interpretation column for the publication, Paranormal Underground Magazine. Cost of the class is $15.
Finally, on Monday October 31, the museum will host a free kids' Halloween carnival from 3:00 to 6:00 p.m. in conjunction with the Trick or Treat Trolley throughout Centralia and Chehalis. This is the museum's third year hosting the carnival, which has proven to be very popular. The first 550 kids receive a free bag of goodies from the Lewis County Historical Museum.
Spaces are limited in classes and workshops, so pre-registration is strongly encouraged. For more information about the events or to register, contact the museum at 360-748-0831. The Lewis County Historical Museum is located at 599 NW Front Way, Chehalis, WA 98532.