Sitting in the restaurant with Bonnie Canaday and Lee Coumbs, you feel like you're sitting with celebrities – everyone greets them. "That's the way it's been everywhere," says Bonnie with a smile. "People have just been so supportive." Centralia Mayor Bonnie Canaday is talking about her recent marriage to Mayor Pro-Tem Lee Coumbs.
Held in George Washington Park, the whole community was invited to the ceremony. The weather even joined in the celebration, cooperating and providing a gorgeous Pacific Northwest summer evening.
Born in Centralia, Bonnie married and moved around the country for many years. After a divorce she moved to Arizona, where she owned a laundromat/dry cleaning business in Bullhead City and became a professional gambler for a few years. "Then I said, 'Okay, God, what do you really want me to do?' and I believe He wanted me to come home to Centralia," she explains.
So in 1986 she came home. Bonnie and her sister-in-law, Joyce Barnes, began selling real estate together. Joyce also served on the city council. The city had just changed governance format, and Lee was the very first mayor. Bonnie then served on the council, and was Mayor Pro-Tem under Mayor Tim Browning. She has now been mayor since 1996, becoming the longest continuously serving mayor.
"Who would have thought this girl who grew up in Centralia would come back and be able to be mayor?" marvels Bonnie.
Born in a town with the name of Opportunity, Washington, Lee moved to Centralia in 1970 to teach agriculture at Centralia High School. "There are people in life who have an interest in everything, and that's me," he laughs. "I always need to have at least two things going on at once." Lee has been involved in a variety of activities since moving to town. He has had various businesses, worked in different capacities. He had Coumbs Concessions at the Southwest Washington Fair, began the Youth Fair and helped start Summerfest. He taught several classes at Centralia College and, with one of those classes, he and the students began the Borst Park Christmas Light display.
"Every class adds to it each year. Now it's up to 14 days and 10,000 people coming through," he says.
While serving on the Centralia City Council, Bonnie became friends with Lee and his wife, Marty. They shared the same interests, traveled together, and served on many of the same boards and commissions. They were all interested in giving back to their community any way they could. Then sadly, Lee's wife of 52 years passed away, a tragic event that affected both Lee and Bonnie deeply.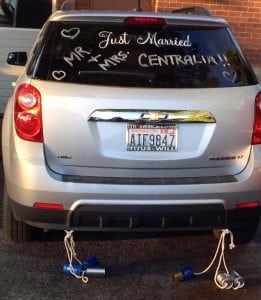 One day Lee was going to be making a trip to Moses Lake to pitch the idea of having the Washington State Holstein Show at the fairgrounds. He didn't want to make the long drive by himself, so he called Bonnie up and asked her if she wanted to ride along. After all, they had traveled together many times before and knew they would be good companions. They talked a lot on the drive there, took a long route home talking some more. "By the end of that trip, we knew we wanted to be together," Lee explains.
Asked what they have most in common, Lee quickly answers, "We like people. We like to get involved in their lives and their stories, to help. We like serving the community." Lee has decided he likes building gas BBQs and may do a few more of those in retirement. "Although we both know it won't be actual retirement, we'll still continue the same kinds of things we do now," adds Bonnie. She also designs websites.
"It's not about us," Bonnie adds. But for a while it will be as the town celebrates their new life together with them. The department heads with the city, along with the city manager, donated a nativity scene to the Borst Park Light Display in honor of the couple. "It was so thoughtful. We don't need anything, and this is such a long-lasting tribute. We can't say enough about that kind of support," explains Bonnie.
After the wedding ceremony, they took a trip down the Oregon coast for a few days. "A pre-honeymoon," Lee says with a wink. On the trip back, they stopped to get gas, and the girl pumping their gas saw their 'Just Married' sticker. "She ran back inside and came out with a Hostess cupcake," says Bonnie. "She was just so excited for us, that's the way it has been everywhere we go."
"I think it's the idea of a promise of a future after a death or divorce, at any age. It's so uplifting and encouraging to so many people. And it is to us, as well, we are so blessed by all the support," Bonnie explains. Lee nods in agreement as another person stops by and quickly gives them a congratulatory hug.