Bethel's School of the Arts is excited to announce their Fall 2016 classes starting September 12, 2016.
School of the Arts (SOTA) started in the Fall of 2015 with the vision of offering after school group lessons in the arts. The school had a great start with 75 students joining. Classes included: acting, a capella, drums, fiddle, piano, ukulele, sewing and monthly art workshops.
SOTA events included: art workshops, two recitals, dinner theater and a summer full of day camps, including Youth Musical Theater Program with Evergreen Playhouse, NW Strings Camp with The Voetberg Family, SewSweet: Sewing & Cake Decorating.
SOTA's mission is to inspire artists to discover and share their passion.
Fall 2016 School of the Arts classes include:
Acting for kids and teens
Music classes including voice, drum, fiddle, guitar and piano (age range by instrument)
Art and Sewing classes for ages 8 and up
Additional classes may be added as needed
This years' event calendar will also include ARTrails Studio Tour, monthly Jam Sessions, opportunities for students to perform in the community and collaborations with local artists.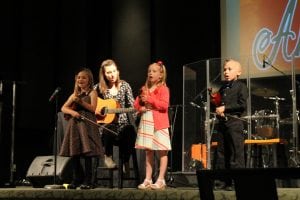 2016 Instructors include: Erin Anderson, Melinda Brein, Susan Clark, Tim Dyeson, Michael Green, Stacy Ridgley and Lilja Voetberg
School of the Arts classes are held at Bethel Downtown Centralia during the week Monday – Thursday starting September 12, 2016.
Class descriptions, required materials and online registration available at SOTA's website.
School of the Arts
413 N Tower Avenue
Centralia, WA 98531
360-669-6355