From panoramic wonderlands to ancient forests and remote sections of wild rivers, biking on Mount Rainier gets you up close and personal with one of the crown jewels of the Pacific Northwest. While you can do a day trip biking adventure, booking a night or two of lodging at Mount Rainier gives you more time to work with, and lets you enjoy more of America's most iconic mountain.
Staying close to Mount Rainier is a key element to maximizing your bike tour and there are several places to stay that put you in close proximity to great bike paths. The best options for biking are out of the rustic towns of Packwood, Ashford, Eatonville and Morton. From those areas, the entirety of Mount Rainier National Park awaits via both road biking options to popular destinations and mountain biking trips that lead down dirt roads in remote corners of the park.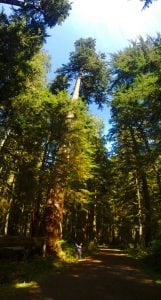 Mountain Biking
The Carbon River is best accessed after a night's stay at the Mill Village Motel in Eatonville. Forty-two miles from Eatonville, access to the Carbon River leads to a majestic and beautiful five-mile road that is car free. Weaving through giant trees and passing by a handful of vistas and short trails, the Carbon River Road is quickly becoming the perfect family biking destination for those looking to explore Mount Rainier. The best part is that at the end of the road, where the trail becomes pedestrian only, there are endless destinations in the shadow of Washington's tallest volcano just waiting to be explored.
Also in this area is the road to Mowich Lake, which makes a great early season biking destination before the road opens back up to cars. Mowich Lake is a five-mile long road leading to a stunning sub-alpine lake and miles of trails.
Another great biking destination in Mount Rainier National park is along the Westside Road near the Nisqually Entrance. After a stay at the Nisqually Lodge in Ashford or the Seasons Motel in Morton, biking up the road will take you to a beautiful forest and the always changing Tahoma Creek.
The Westside Road also offers up access to stunning hikes, including the Tahoma Creek Suspension Bridge and the Devils Pipe Organ. Those looking for something a little easier and family friendly should drive to Longmire and bike around the campground and Forest Service Road 52, also called Skate Creek or Kernahan Road.
Road Biking
Those looking to put serious miles on paved roads with world-class views will be rewarded by a handful of surprisingly breathtaking routes. The first option is the route from Crystal Mountain to Sunrise. Traveling 22 miles and gaining 3,600 feet of elevation, this path is for those who want to experience picturesque forest and river views as well and one of the greatest panoramas in the national park system.
After a rest at the Mill Village Motel in Eatonville, start your trip along Crystal Mountain Boulevard, slowly working your way up the White River Valley. After entering the park, climb the switchbacks leading to the overlook and vistas before finally reaching the perfect view from the Sunrise Visitor Center. From here, see glaciers feed the White River as deer and bear roam the wildflower-filled meadows. There are few views better than this in all of America. For a longer and equally beautiful ride, consider staying a night at the Crest Trail Lodge or the Cowlitz River Lodge in Packwood. Biking from Packwood to Sunrise is a bit longer, coming in at 42 miles one way, but passing through forests, the Grove of the Patriarchs and eventually reaching the same amazing view at Sunrise.
If you'd rather explore the western side of the park by bike, consider taking the Ashford to Paradise route. Coming in at 23.5 miles and 3,800 feet of elevation gain, the scenery while pedaling through this region will inspire countless more rides in Washington's National Parks. This route passes through majestic forests, crosses glacier fed streams and rivers, next to waterfalls before eventually reaching the aptly named destination of Paradise. While many of us have driven this route numerous times, there is something incredible about being able to smell the air as you change elevations, and truly connect with the landscape of Mount Rainier.