For the fifth year in a row, fiddlers, pianists and other string players from around the region will converge on Chehalis for the Northwest Strings Camp July 19 – 22. The camp was founded in 2012 by Ben Booher whose family runs a series of camps in Oregon. This year, leadership of the Lewis County camp shifts to the Voetbergs, a family of musicians who have been involved with the camp since its inception in 2012.

Fittingly enough, the Voetbergs got their start at one of Booher's Family Music Camps. They are delighted to continue the tradition of providing outstanding instruction to students of piano, fiddle, cello, and guitar from up and down the I-5 corridor.
The emphasis of Northwest Strings Camp is on ear training. After being taught traditional folk melodies with genres including boogie woogie, celtic, bluegrass, Texas style, and jazz, students work to devise intuitive harmonies, unique variations on a theme, and the ability to modulate keys on the spot. There is no relying upon sheet music. Part of the appeal is that people of all ages work to share and create the music together. Camp attendees are multi-generational. The only prerequisite is that each camper has at least six months of familiarity with his or her primary instrument. There are even opportunities to try a second instrument if students are interested.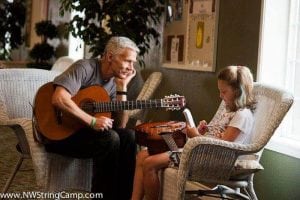 Lisa Voetberg sums it up this way: "Folk music is just that – folk learning music with other folk!"
The Voetberg family's involvement with fiddle playing took root more than 15 years ago. Lisa and her husband Joe provided a classical music education for their children, but once they were introduced to the world of fiddle playing, they were hooked.
"I fell in love with fiddle music because of the beauty of it and the relational part of it," says Lisa. "One of the first things I noticed were 80-year-old men sitting down teaching my little Annie, backing her up on the guitar, encouraging her. How could I not love this?"
"Little Annie" is now 23-years-old and is the fifth of ten children in the Voetberg family. Most of the Voetberg siblings participate at camp in some form. All have won numerous awards for their playing and singing, including state, regional, and national championship titles at the annual National Oldtime Fiddlers Contest and Festival. Eight of the children continue to perform all over the Pacific Northwest as the Voetberg Family Band.
Lilja, number six in line, is 21. In mid-June, she placed fourth in the young adult division at the national contest. Younger brother Vance, 16, placed third in the junior division. Lilja is one of the piano instructors at camp.
"Our family originally began music by singing with our mother at home and church," says Lilja. "Singing as a family was part of our daily routine and academics. When my oldest brother (Joby, now 32 and a physicist) turned eight, he began classical piano. All of us have studied classical piano all through our school years. We attended our first music camp in 2001 where we were introduced to learning by ear. We started adding different instruments along with many different genres and sought out instruction from teachers all over the country. We would travel to music camps where we would be inspired by other fellow musicians and encouraged to continue pursuing music."
Joining Lilja as instructors this summer will be sisters Brice (30), Liddy (28), and Annie (23) and brother Elisha (25).
In addition to teaching, Lilja serves as the teacher recruiter for the camp. This year she is pleased that all five of her fiddle instructors have won national titles, including 2014-2015 Grand National Fiddle Champion Luke Price. Piano teacher Floyd Domino from Austin is a multi-Grammy award winner and has played with legends like George Strait, Merle Haggard, Asleep at The Wheel, and many others.
Of particular interest to area residents will be the evening performances. "Every night we will have live performances," explains Lilja. "The first night will be Ensemble night where anybody who comes to camp with a group can perform. The second night will be the Instructors Concert where all the instructors showcase their instruments and collaborate with other teachers to put on a show. The third night will be the Battle of the Bands. At the beginning of camp, we draw names from a hat and put together 8 to 12 bands formed by the students, and they are to come up with a showcase that involves all members of their band. Each band is supervised by an instructor, but for the most part is left up to the students to put together a show. The final night is the Grand Finale."
All performances are open to spectators, but the Grand Finale is a ticketed event. Audience members are able to see and hear what the students have learned during the week.
NW Strings Camp takes place at Chehalis' Bethel School of the Arts and is supported by contributions from Coldwell Banker Kline & Associates in Centralia and Fiddlers Coffee.
FAQs about NW Strings Camp
Where do campers stay?
Dry campsites are provided, but children under 18 are required to have an adult chaperone in order to stay overnight. Students may be dropped off to attend classes and then be picked up in the evening. They do not require a chaperone to attend classes.
What is the age range of campers?
The camp serves students ages 6-96. 
Is there a numbers cap?
There's a student cap of 100. 
What is the camper/instructor ratio?
There will be about 15 instructors, and all the campers will be split up into classes according to instrument/level. 
Do campers need prior playing experience?
Campers should have at least six months of playing experience before coming to camp.
How do I register?
Please visit the registration page on the NW Strings Camp website.