Even though cars are a necessity these days, they can be stressful too. We all know the cold-sweat-inducing rattles, clunks, and 'check engine' lights that go along with ownership.
Finding yourself in the market for a new—or new to you—car can be stressful: "Driving a brand-new car can be one of the great experiences of life. Walking into a dealership and buying one, on the other hand, ranks up there with public speaking and visits to the dentist atop most people's lists of anxiety-inducing prospects. But it's not really that scary if you're prepared and knowledgeable. Then you can stride into that dealership informed, confident, and in charge of the whole process."
In Thurston and Lewis counties, the I-5 Cars family includes Awesome Ford and Awesome RV. Sales Manager Ryan Hughes is proud of sales team member Colin Patterson and Service Manager Jim Jussila. He knows that a strong team is vital as they help keep customers happy and safe behind the wheel.
"I started at the bottom when I first arrived at I-5 Toyota," says Colin Patterson. "I started out as a 'lot guy' at the Toyota store, working part-time. I enjoyed that job role as I was active every day running around the lot, washing cars, doing dealer trades, making the place look good. Basically anything that was asked of me I did, no questions asked. The I-5 Toyota team grew to be more than just a work place, it became a family."
Colin soon added tasks such as photographing their vast inventory and then managing the lot crew. "I felt like it was a big chance for me to prove that I can be responsible and I can take advantage of the opportunities that the I-5 Toyota team is giving me. Being a lot manager was one of my favorite jobs with the company; it was fun, busy and I enjoyed every part of it. This job entailed more than just washing cars and doing 'lot stuff,' I helped with almost every event which was fun also."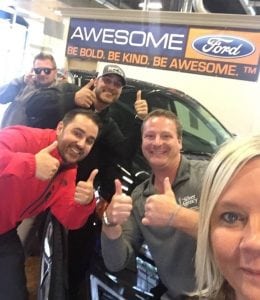 Advancement in such a short time has this 2011 Timberline High School grad extremely grateful. "I honestly can't see myself working at any other dealership due to the things this company has done for me over the years. This is a very loving and trustworthy work environment and I would recommend any position with the company. All in all I am now selling vehicles and RV's at Awesome Ford/RV and I love every minute of it; hard work and dedication does pay off!"
Awesome RV Service Manager Jim Jussila is another example of how I-5 Cars rewards exceptional employees. Jussila was hired in 1994 as a lot attendant like Patterson. Two years later he became a service technician in their RV department, earned RVDA/RVIA Master Certification soon after that and took over as service manager in 2003.
"The most rewarding thing I find at work is earning a new customer," Jim says. "Many times, we have customers who have obviously had bad experiences at other dealers or service centers and they come in for the first time somewhat apprehensive, sometimes even aggressive, because they feel like that is what they need to do to make sure their needs are met. As a service provider, watching this type of customer become more comfortable over time to the point where their personality changes to a positive one is one of the most rewarding things for me. Winning this type of customer over and earning not only their future business, but their trust, is a major accomplishment."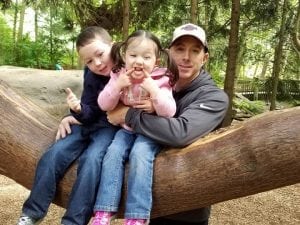 "I used to race cars, primarily at South Sound Speedway," says Jim when talking about what he does outside work. "I did that for about 10 years, racing everything from entry level classes up to late models. It was a great hobby that I thoroughly enjoyed. I have since traded the race car for a lawn mower, my race suit for a pair of gardening gloves, and my polished aluminum floor jack for a partially rusted rake, spending time outdoors with my wife and two children."
Buying local not only keeps your hard-earned dollar within the community, it employs friends and neighbors. Awesome Ford and their family of employees can help you with your car buying needs like you're part of the family too.
Visit one of their many locations to browse inventory, schedule service, or arrange financing. Let them take some of the stress out of your daily commute.
Sponsored