When people think of buying insurance through a broker, they typically think of car insurance or homeowners insurance. When considering health insurance, most shoppers will turn to their employer or look for coverage through one of the state programs like Apple Health (Washington's Medicaid program). But Bob Holland of Centralia General Agencies tells us that selling medical insurance is exactly what he specializes in. And he believes the most important part of his job is to educate the consumer so they can get exactly the coverage they need, for the price they can afford.
Holland grew up in Bellevue and began his career as an insurance adjustor in Tacoma, working for Mutual of Enumclaw. He spent a lot of time on the road, working claims, and developing relationships with agents. For 15 years, he worked as marketing manager for Blue Shield in Chehalis.
"It used to be a local insurance plan governed by local branches of Washington Physician's Service," Holland says. Each county used to have their own physician board that oversaw insurance for that area. "It's a pretty interesting history, how medical insurance has evolved," says, adding that King and Pierce county medical bureaus merged, and changed their name to Regence, a Blue Shield Plan. Then they approached Lewis County Medical, the first rural county plan to be brought into the group.
In 2000, Holland joined Centralia General Agencies, an insurance brokerage firm that had been in existence since the late 1950s. He explains that each broker is an independent contractor. "We're our own boss, independent brokers. We can choose to put whatever 'products' on the shelf that we want." Holland's products include medical, dental, short- and long-term disability, and life insurance policies as well as options for secondary Medicare coverage, and of course, the Affordable Care Act (ACA) plans, also known as Obamacare. He can help with small employers for group coverage, senior, family plans, and Apple Health. Most of his time is spent on selling and servicing the ACA and Medicare benefits.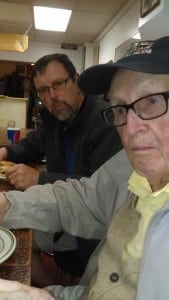 Though the system was set up to help brokers cut through the red tape, Holland's biggest challenge is still the Affordable Care Act. "It's the biggest challenge for the customer so it's the biggest challenge for me," explains Holland. He worries about consumers recognizing financial benchmarks to avoid big fines.
To keep up with the rules and changes, brokers are required to recertify through four hours of continuing education each year. "The first two Open Enrollment years I worked 10-12 hour days on it, but it's getting better. The market shifts every year, people move in and out of plans, providers move in and out. People switch according to benefits and rates. Every year we have to let people know to be sure to check with their doctor's billing offices to see what insurances they accept. But who knows what the future will bring, this is an experiment, you never know."
September through January is his busiest time with ACA open enrollment, although lower-income individuals and families can enroll at any time during the year, or if circumstances change. Holland seems relieved as he says, "At least we don't have to ask a person's medical history anymore."
Holland reminisces about many of his peers who have pulled out of the medical insurance market due to the difficulties. But he is proud that he is still sticking with it. He continues to work hard and be involved with the organizations covering the industry such as the Washington Association of Health Underwriters, where he was past state president.
For fun, Holland enjoys his 14 grandkids, along with service work in the community. He is a member of the Kiwanis, on the Salvation Army Board, and is involved with the Economic Development Council. "I have a lot of meetings," he laughs. He is also involved in the Health and Hope Medical Outreach (free clinic), helping with serving the uninsured. He loves how committed the volunteers are there. "They are very serious about their work, but very relaxed people," he smiles. While he doesn't use the work as an opportunity to sell insurance, his knowledge comes in handy when people don't realize they may actually qualify for coverage, particularly through the ACA. He also connects people to community resources such as Cascade Mental Health, Love Inc. or other helping agencies. "It's very rewarding," Holland explains.
Holland's favorite part of his job is the people and working face-to-face. Nowadays a lot of people go online to virtual brokers or companies directly to look for insurance, but many people would still rather work with a local broker. Skip online or telephone registration for ACA – Holland can do all that work for them. "And our services are free," beams Holland. "I enjoy getting the right match for the customer. If I make them happy, then I'm happy. When you're in a smaller community, it's nice to be able to serve your neighbor and give back."
Centralia General Agencies
209 ½ W. Main Street in Centralia
360-736-8283
www.insurewithbob.com
Sponsored