Located in the heart of historic downtown Chehalis, Book 'N' Brush is at first glance exactly as advertised – a quaint, locally owned book and arts supply store. However, as many locals and long time, loyal customers know, Book 'N' Brush is at its heart so much more.
Book 'N' Brush has become a small business monument filled with memories and treasures that span decades and generations. In times filled with e-readers, e-books and online shopping, Book 'N' Brush proves that it is still the place to go and the place to be.
Store manager and framing specialist Sherry Nickerson and assistant store manager Melissa Carbaugh have been teaming together for the past four years to help Book 'N' Brush keep its vintage charm and at the same time help the store develop to fit the needs of a growing, changing community.
Melissa shares, "Book 'N' Brush is a destination. It isn't just a book store." Nothing punctuates that sentiment more acutely than the comfortable and inviting nooks tucked in various places throughout the store, encouraging customers to stay awhile to read, color, and chat.
"Bring in a cup of coffee and browse the store, color at the table up front, stay a while," Sherry invites. With a wide selection of books and art supplies, it is easy to find multiple items that will spark your imagination and creativity.
Book 'N' Brush is family friendly. Melissa, a mother of two young children, knows firsthand how daunting shopping with young children can be sometimes. Melissa says, "I know that kids get bored shopping, so we offer a coloring table and the train table to help keep the kids happy while their parents shop."
Sherry and Melissa encourage families to sign up their children for the birthday club. Sherry says, "The birthday club is for kids twelve and under and they get five 'birthday bucks' to spend in the store. It's so fun when they walk in and the kids get to pick something out." No purchase is necessary to join the birthday club.
Even more, Book 'N' Brush also hosts art classes and various events for all ages. One example is a recurring event called Coloring & Cocktails. It is for ages 21 and up and is a themed event. Sherry explains, "People come and sit and eat and drink. We have music and raffles." Melissa adds with a smile, "It's really fun and silly." Money raised during these events is donated back to local charities.
Book 'N' Brush has also hosts events for families with children. Melissa shares, "Last year we did a live action Where's Waldo hunt. It was awesome. I hope to do another one like it in the future." And she is hoping to add even more family events to their calendar.
She says, "We want families to be able to count on that there's something happening at Book 'N' Brush. And not just for rainy days."
Book 'N' Brush also offers a variety of art classes including watercolor, drawing, and oil painting. Sherry says, "The great thing about these classes is that you bring in what you like to work on and you don't have to worry about everyone doing the same vase of flowers."
The classes are open to all levels from beginning to expert and are taught by local resident artists. "Just bring something with you, an image of what you want to draw, and some paper and something to draw with," explains Sherry. And of course, if you are in need of any art supplies, you can find what you need right where you're at.
For both Sherry and Melissa, the hallmark of their job is the customers. Melissa says, "The relationships we build with our customers is one of the best things about working at Book 'N' Brush – and the access to books." Sherry adds, "It's so much fun when our regular customers come in and we can share recommendations with them."
When it comes to selecting the books to be offered at the store, it's a job that Sherry and Melissa don't take lightly. Melissa shares, "Our tastes are totally different, which is a good thing." Along with keeping tabs at trade shows and what is trending on social media, Melissa says that the luxury is in the selection. Sherry adds, "What we offer is fully eclectic."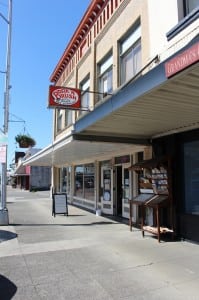 And if there is a chance that you can't find what you're looking for Melissa explains, "The great thing about our store is that we can order anything that people are looking for. Order through us. It's fast, we can have your stuff here usually in two days, and you don't pay for freight."
Customers can count on fast, friendly, and custom service at Book 'N' Brush, plus everything you might need to spark your creative side. Book 'N' Brush is a place for all ages and all interest types. Be sure to follow the Book 'N' Brush Facebook page for the most up to date information on events. "We are hoping to show people, the community, that things are happening here at Book 'N' Brush," Melissa says.
Book 'N' Brush
518 N. Market Blvd in Chehalis
360-748-6221
Open Monday through Saturday from 10:00 a.m. – 6:00 p.m.
Sunday from 11:00 a.m. – 4:00 p.m.
Sponsored