By Kate Scriven
"People often are either running towards money like it's a salvation, or they are running from it like it's something to be avoided. The real truth is it's just a tool that gives us options," explains Nancy J. LaPointe as we sit in her comfortable Lacey office at Navigate Financial.
LaPointe, a CERTIFIED FINANCIAL PLANNER™ professional, has been helping clients  manage their money for over 17 years. In that time, she's discovered that while she can design a customized road map for a client's financial success, if that map doesn't align with the client's attitude, or mindset, about money, it's often doomed to failure.
It was this recurring theme that prompted LaPointe to write her new book, "Financial Reset." The subtitle of the book captures the essence of what LaPointe has observed over and over in her practice: "how your mindset about money affects your financial well-being." By helping clients, and readers, to reexamine and "reset" their unhealthy attitudes towards money, LaPointe hopes to assist people in creating real, long-term financial success.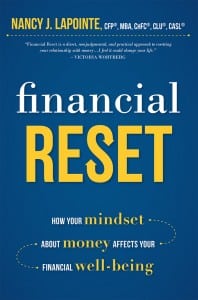 "This book is focusing in on attitude," she says. "One of my core beliefs is that the only thing you have control over in life is your attitude. So, why not zero in on that point you have control over and explore, examine and develop our attitude towards our money?" And unlike her office sessions, the book provides the opportunity for her to touch many more people than she can one-on-one and provides a reference that people can look back on as they work toward their financial goals.
Through her years of working with clients, LaPointe understands that our mindset about money is deep-seated and often developed early in life. "Most people have good intentions in regards to their finances but are essentially a product of their background, the home they grew up in, the environment where they developed their core values," explains LaPointe. Going about resetting this mindset is an organic process that occurs over time, with conscientious thought and hard work. "Even incremental changes have an impact," she notes.
In "Financial Reset," LaPointe takes readers through the process of understanding their current mindset about money. By examining healthy and unhealthy attitudes surrounding finances, readers learn how attitude impacts reaching their goals. Packed with easy to understand graphics, questionnaires and worksheets, the book is not simply a "how to" manual for financial success, but a true guide towards making an internal change.
One particularly impactful graphic shows a straight arrow leading upwards. This image is labeled "what people think financial success looks like." Adjacent is a squiggly line, looping back over itself in a tangle. This image is labeled "what financial success really looks like." Its straightforward information like this, peppered throughout the book, which really hits home for readers. It's real. It's simple. It's impactful.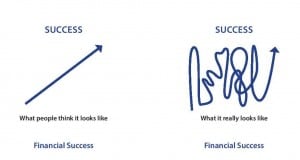 "The most important thing is to find what works for you, not what works for your neighbor, your friend or for me," says LaPointe. And, "Financial Reset" shares how to define what it is that works for you, and more importantly, why it works for you.
LaPointe began writing her book more than three years ago using several years of her essays as the backbone of the book. She was encouraged to begin the ambitious project, in line with her entrepreneurial spirit, by her equally entrepreneurial brother, Dwayne Boggs.  Both Boggs and his sister have found success as small business owners, LaPointe at Navigate Financial and Boggs through his home inspection company, Boggs Inspection Services. LaPointe says that his support for her book has been steadfast.
In both her professional and personal lives, she has seen many people live in fear of money, and through that fear, avoid engaging with it in a proactive way. This avoidance gave power to money – an inanimate object – and removed power from the person. Through her book, LaPointe hopes to give people concepts and practical suggestions to help change their attitudes and feel a sense of empowerment and control over their finances.
While she has a rock-solid foundation in financial planning and advice, making that accessible and easy to understand in a written form was the biggest challenge for LaPointe. "I wanted to find a balance of being comprehensive and easy to understand, while still getting to the meat of the financial issues," she explains.
As one reader commented, "I read it, understood it, and loved it." This, to LaPointe, signals success. "If people don't want to read it and like it, then the time and effort I took to write the book will mean nothing." From the initial positive responses she's received to the book, it appears LaPointe has achieved her goal.
"Ultimately, I want to help people to not 'nickel and dime' their dreams away," LaPointe explains. "Money will always flow, just like water. But, it's how fast it flows and where it flows that you ultimately have control over."
You can get your own copy of "Financial Reset" on Amazon.com by clicking here or support your local bookstore and ask them to order a copy for you (and a few for holiday gifts, too!). Ready to sit down with Nancy LaPointe? Call Navigate Financial at 360-628-8175 to schedule an appointment today.
Nancy LaPointe is a financial advisor located at Navigate Financial 4520 Intelco Loop SE Suite 1D Lacey, WA 98503. She offers securities and advisory services as an Investment Adviser Representative of Commonwealth Financial Network®, Member FINRA/SIPC, a Registered Investment Adviser.