Submitted by Chehalis-Centralia Railroad & Museum
The Chehalis Centralia Railroad will begin service to the North Pole onboard THE POLAR EXPRESS™ Train Ride, starting Saturday, November 21. Weekend rides are Fridays, Saturdays, and Sundays. Rides are at 3:00 p.m., 5:00 p.m. and 7:00 p.m. The magical story comes to life when the train departs The Chehalis Railroad Depot at 1101 SW Sylvenus Street, Exit 77 in Chehalis for a one-hour round-trip journey to the North Pole midway between Seattle and Portland.
New this year is the Premiere Class excursion for up to 22 people or small groups of 4, 6 or 8. Private spaces in the newly restored 1930s business car are available for those wanting to stay isolated during these COVID-19 times, or just want to have a unique and memorable ride in the luxury of rail travel. You can choose from the dining room, parlor or stateroom when you purchase your tickets. Prices for this 1st Class ride are $50 pp and include a keepsake gift to take with you. You will have a perfect window view when you arrive at the North Pole to pick up Santa.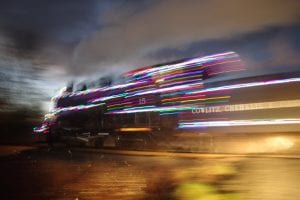 Due to restrictions from the COVID-19 pandemic, we have limited seating to 50% capacity to ensure social distancing. Masks are required unless sipping on cocoa or eating cookies. Our Conductor and entertainers will make special efforts to ensure your ride is comfortable and safe. Santa will make sure your experience is memorable and delightful. Individual cancelations will be allowed on a case by case basis if you or your children are feeling ill. We do not want to compromise anyone's health.
Set to the sounds of the motion picture soundtrack, passengers will relive the magic of the story as they are whisked away on THE POLAR EXPRESS™. Once onboard, hot chocolate and treats are served as passengers listen to the classic children's book, The Polar Express, by Chris Van Allsburg. Santa and his helpers greet passengers at the North Pole and then board the train, where each child is given the first gift of Christmas – a silver sleigh bell. Chefs aboard each car lead passengers in singing Christmas carols on the ride back to the Depot.
The journey begins November 21 and runs through December 20 on select dates. Exact dates, fares and excursion times are available by visiting SteamTrainRide.com. Ticket prices for all ages are $38. Two and under ride free. Families are encouraged to wear warm clothes and bring blankets… it is cold at the North Pole!
The Santa Holiday Train is a traditional favorite. This daytime ride option is available at 11:00 a.m. and 1:00 p.m. on Saturdays and Sundays beginning November 28 till December 20. Ride with Santa for a 30-minute journey during the day. The cost is $15 per person. Two and under are free.
COVID-19 safety measures and guidelines are in place including reduced occupancy, so seating is limited. Our historic train is safe and ready for taking passengers on a journey through the Chehalis River Valley.