Writer and farmer Brenda Schoeop said, "My Grandfather used to say that once in your life you need a doctor, a lawyer, a police officer, and a preacher but every day three times a day, you need a farmer."

Fifth-grader Elena Gullett from Centralia is lovingly referred to as Farmer Ellie. With a can-do attitude coupled with a caring disposition, Ellie is as sweet as the flowers she thoughtfully grows.
Ellie and her brothers are growing up on Seedpod Farm with amazing parents who have instilled in their children that hard work pays off. Seedpod Farm produces 150 varieties of fruits, vegetables and herbs on its nearly 22 acres. Each one of their children picks a "lane" they would like to take in their farming business. The boys chose chickens and pumpkins. Farmer Ellie decided she would love to grow something a bit more colorful — flowers.
The children are encouraged to explore their areas of interest which is then incorporated into their homeschooling lessons. Ellie's parents Julie and Adam teach their children to be good stewards of their land, time and resources. "We formulated a plan on how Ellie could efficiently be a flower farmer," says Julie.
Ellie's job was not only to come up with an idea but to put it into action. She learned what flowers would grow well together, prepared the ground, planted the seeds while nourishing them and weeds the flower patch. While there are multiple flowers Farmer Ellie planted and reaped, her favorite flowers are dahlias. "I love all the different colors the dahlias have," she says.
It's important to Ellie and her family to give back to the community. They thought long and hard about what that would look like. They decided each week while the flower patch is producing, Ellie donates bouquets to Assured Home Health and Hospice. The hardworking caseworkers decide who needs an extra boost of love and sunshine that week and they receive the blessing of the beautiful bouquets.
While the flowers are Ellie's sole responsibility, everyone in the household is expected to help on the farm.  A normal day for the family starts at about 6:00 in the morning as they take their "flerd" out to the pasture. "A flerd is a flock and a herd," says Ellie. "We have both, so we call it a flerd."
The farm is home to many types of animals including a specialty flock with seven different kinds of species of chickens, a butterfly habitat, mason bees and honeybees. They try to choose breeds of animals that are on The Livestock Conservancy's list of endangered species.
Seedpod Farm offers their fresh produce and local food to the community with a CSA – Community Supported Agriculture. The farm also offers what is called a Servants Share CSA. For 14 weeks from June through September, they give a select number of families the opportunity to learn what it takes to plant and harvest their own food.
The Gullett family works right alongside the families and guide them in what vegetables or flowers work best together and how to maximize growing spaces. "The families that participate have become like a farm family," says Julie. "Our farmily." Farmer Ellie's flower patch also provides the opportunity to learn about plants and what they need to flourish. The farm also happily donates to low-income seniors who may not have the chance to shop for fresh fruit and veggies.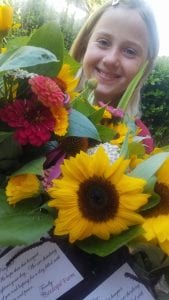 Seedpod Farm usually hosts spring and fall festivals showcasing the lovely farmland and include vendors. They are passionate about supporting local businesses and while things have changed for this year's festivals, they may do a version online.
Many people do not realize that our lives are touched every day by a farming family. We often do not think about where our food came from, who planted it, who grew it and who picked it. 90% of all farms in the United States are small family-owned businesses. On average one farm can feed 166 people.
Farmer Ellie is tenacious in her passion for growing flowers and farming, as is her family. Knowing that between 2007 and 2012 the number of new farmers decreased by 20%, Julie found a program called the Small Farm Internship Program that develops collaborative internships on small farms. Lewis County didn't qualify at the time so, wanting to do more, Julie wrote a letter to Rep. Orcutt.
In 2017, Rep. Orcutt asked the family to testify for HB 1906 – The Small Farm Internship Project. They offered testimony both in the House and Senate and stood behind Gov. Jay Inslee as he signed HB 1906 into law.
At one point, Gov. Inslee looked at Ellie and said, "This bill will help you to become a farmer someday." She looked him directly in the eye and said with a note of obvious dismay, "I'm already a farmer." Her mother had to smile with a bit of pride, although she admits she was a tad chagrined at Ellie's cheekiness. Nevertheless, Julie realized her daughter already understood who she was in relation to the land and helping to pass this legislation would give others the opportunity to learn to be a farmer- just like she is.
Seedpod Farm
2230 Howard Ave.
Centralia
info@seedpodfarm.com