On Thursday last week, the town of Pe Ell flew their flag at half-mast to honor the passing of Bonnie Steen Montgomery—a light and inspiration in her community who impacted countless lives with her kindness, generosity, hard work, and joyful faith. 
A resident of Pe Ell for 51 years, Bonnie actively loved her town and worked tirelessly to make it a better place. "She put her whole heart into everything she did!" remembers Barb Wooster. On any given day, Bonnie could be found mowing numerous lawns around town, cleaning sidewalks, trimming bushes, painting curbs, baking and delivering goodies, reading to elementary students, serving her church, and lovingly taking care of "her town" until cancer slowed her down earlier this summer. She had just reached her 82nd birthday two weeks before passing away.  
Nobody impacted this small community like this spunky, little lady. When word went around Pe Ell that Bonnie had unexpectedly slipped into a coma while visiting her daughter Chris Anderson in Westport, the town rallied. Local volunteer firefighter and EMT Debbie Schang came up with a plan to get Bonnie home. Within minutes, Schang was on the phone with the fire chief asking permission to use the town ambulance to transport Bonnie back to Pe Ell. His response was immediate: "Absolutely!"
Schang, along with firefighter Eddi Nelson and EMT Renee Davis, volunteered to make the three-hour round trip on Wednesday. "It was an honor," said Davis, and the rest of the crew agreed. "Bonnie has done so much for our community. It was the least we could do." As the ambulance rolled through Pe Ell, people lined main street cheering and waving flags to honor the return of their beloved resident. "We are so grateful for everyone's kindness. Mom got to be home when she died," said her son Lee Montgomery. "This is where she wanted to be."
Bonnie's ties to the town began in 1969, when she, her husband and two young children moved to Pe Ell. She quickly earned the reputation of being a hard worker, taking on a variety of jobs throughout the years to support her family. Modeling determination and grit, she collected eggs at a chicken farm, packed shakes at a mill, tended bar at a local tavern, worked for the City of Chehalis Parks and Recreation, served as the animal control officer and water meter reader for the Town of Pe Ell, managed juvenile work crews, and supervised students as a recess aide—until she eventually landed a long term job as a custodian at the Pe Ell school when she was in her early fifties. She worked there for 23 years until she finally retired at age 74. 
It was while working as a custodian and later volunteering in the classroom that she touched the lives of many of Pe Ell's children. She joked with them, lectured them, encouraged them, and took a genuine interest in their lives. Although living on a tight income, Bonnie loved to support students and gave generously to their fundraisers—whether she needed those items or not—and was a faithful supporter of the school's Dollars for Scholars fundraiser. For years, she entertained the audience at the annual New Harvest Church Graduation Banquet, dressing up in hilarious costumes that matched each year's theme. 
As a janitor, she took great pride in looking after "her teachers" and making sure their rooms were spotless. After she retired, she came back as a volunteer to read with young children, filled in as "grandma" whenever needed on Grandparents' Day, and often brought warm cookies for the staff. "Bonnie spread love wherever she went," wrote teacher Cheryl Rhodes. "I loved watching her read to the kids in my classroom. She was tireless. Even when her eyesight was failing, she still showed up to read. One day I came home from work and she was painting our porch posts for us. She knew we were too busy to get the job done before the weather got bad. She was the most thoughtful person I have ever met."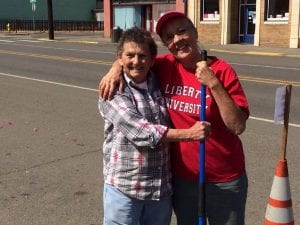 Other teachers, staff, parents and former students remember her fondly. "She loved every child at school, and they knew it!" "She would always crack jokes in the hallway and give us kids a hard time." "Our students have been so lucky to have had the opportunity to know her and learn from her. She was the best." "She could catch anyone chewing gum in the hallways! I was always amazed when she 'caught' me chewing gum! She must have had eyes in the back of her head!" "From the time I was a young kid and saw her daily at school…the example she set has touched my soul more than she knew." 
Not one to sit still, Bonnie kept busy long after she retired from the school. "She voluntarily mowed the town's properties for years, trimmed the rose bushes in front of Town Hall, brought me fresh flowers for my desk, made at least two desserts every week for Bible study and took the leftovers by Kettle Creek and then on to Town Hall. She loved supervising work crews from the juvenile court that would come and do clean up in Pe Ell. She watched them like a hawk to make sure they did exactly what they were there to do. She also loved visiting the kids and staff at school where she worked for years," recalled Patty Grandmaison. Debbie Justice added, "She could work circles around anyone half her age but always knew how to bring fun to any work project!"
Her down-to-earth wisdom and common sense were valued by all. When she was in her seventies, Bonnie ran for Pe Ell Town Council and served over five years. She reluctantly resigned on her 82nd birthday right after starting hospice. In addition, she volunteered with the Pe Ell Community Food Bank, Pe Ell Booster Club, and was instrumental in starting the Pe Ell Active Citizens Committee. "When I first met Bonnie, I thought she was the mayor. She had such a get-it-done personality that I didn't know for months that she wasn't. She was always doing something for someone," said Annette Miles. 
For years, Bonnie faithfully swept and cleaned Main Street for the annual Pe Ell Fourth of July Parade then would jump on her little red moped and ride in the procession to the delight of the crowd. In 2017, Bonnie was awarded Pe Ell's "Volunteer of the Year," and in 2019, she was chosen to be Grand Marshall of the parade. 
As much as she was known for her strong work ethic, Bonnie was equally known for her strong Christian faith and love of Jesus. She was actively involved in her church, faithfully attending services and Bible studies as well as lending a hand for all kinds of work projects from cleaning and painting to putting up sheetrock. More importantly, she genuinely cared about people—welcoming visitors, encouraging the pastors, visiting those who were sick, sharing home-baked goods with people all over town and bringing joy and laughter to so many. 
And laugh she did! Bonnie was notorious for her playful shenanigans. Whether it was hiding fake spiders in her neighbor's toilet paper roll, sporting a red reindeer nose to cheer a sick friend, or scaring unsuspecting friends at Walmart—Bonnie loved pulling pranks and making people laugh. Eddi Nelson remembers Bonnie once saying, "I don't want people to cry when I die, I want people to celebrate my life and laugh!" 
In the days before she passed away, friends and family sat around sharing hilarious "Bonnie stories" that ended with much laughter and celebration amid tears. Loving messages from neighbors, longtime friends and newly-made friends, church members, business owners, city council members, nurses at the clinic, former students, and teachers all paid tribute to the countless ways Bonnie had touched their lives: 
"You have been an inspiration to so many!" 
"You made a difference in countless kids around this community."
"You have touched more lives in this town than you'll ever know. You have blessed many with your love of Jesus and spreading his word…I will never again hear the sound of a lawnmower without taking a peek to see if it's you!"
"You are one of the strongest, hardest-working women I know!! We all love you!"
"Without speaking a single word, you made your life an example of love and service to all."
"Bonnie, you do not know how much I looked up to you. Your love for your community and selfless acts, your integrity, your love for your family and God. I still aspire to do those things that you taught us all."
Rhonda Johnson summed it up well, "Bonnie, you blessed everybody and everything you came into contact with. I pray that we all take something from your example and become more like you." 
Motivated by Bonnie's life and contribution to the town, several people have challenged the community to pay it forward. "If everybody could be a Bonnie, this world would be an amazing place," Jessi Cox told a friend, and the #BeABonnie movement was born. Several friends, community members and family enthusiastically embraced the idea and ran with it. Plans are currently in the works to create #BeABonnie T-shirts that will be sold to raise money for a memorial scholarship in her name. Bonnie's children want that scholarship to recognize high school students who have a "Bonnie work ethic" and give back to their community. Others have proposed placing a commemorative marker in Memorial Park as well as organizing an annual community "BeABonnie Work Party" to keep the legacy of this small-town woman with a big heart alive. 
"More than anything, Bonnie wanted to be known for working hard and loving Jesus," said her daughter-in-law, Robin Montgomery. "This is a beautiful way to celebrate her life."
Bonnie is survived by her son, Lee Montgomery and wife Robin of Adna, daughter Chris Anderson and husband Aaron of Westport, and six grandchildren: Matt, Luke, Bethany, Kathryn, Ryan and Drew.
Donations to the Bonnie Montgomery Memorial Scholarship may be made out to the Pe Ell Booster's Scholarship Foundation and mailed to: Pe Ell School, PO Box 368, Pe Ell, WA 98572, with a note for the Bonnie Montgomery Memorial Scholarship.