An unknown author once said, "Honor your elders for they have wisdom to teach what we have not yet learned." One important way to respect the elders in our families is to make sure they are safe, including preventing injuries, reducing fall risks and taking home safety precautions.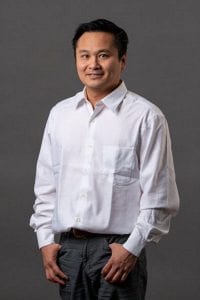 People of all ages may experience falls but as we get older the risk rises tremendously. According to The Center for Disease Control and Prevention, one in four seniors falls at least once a year. One in five falls results in serious issues such as broken bones or head injuries.
It's so important especially in these trying times to keep the elders in our community safe and healthy. Dr. Huy Dang Podiatry Specialist with Foot and Ankle Surgical Associates has seen many aging patients in his 16 plus years of experience.
Dr. Dang encourages everyone to go and evaluate elderly family member's environments, to eliminate any trip hazards such as rugs, electrical cords or furniture. It is also extremely vital to make sure that their home is well lit and to monitor any medication changes that may cause instability. Make sure that your family member is also avoiding poor footwear and is mindful of uneven or broken stairs.
Should your elderly family member have a fall, get them to the doctor as soon as possible. COVID-19 has people weary to seek medical care for fear of getting sick. However, not going to the doctor can have horrible repercussions. "Neglecting to go to the doctor after a fall, an infection may set in, and amputation rates rise," says Dr. Dang.
Not seeking medical care when needed can be just as detrimental to health as getting COVID-19. Falls are the most common cause of traumatic brain injuries. If someone is on blood thinners, the risk is extremely high that they may suffer from a head injury, especially if they hit their head during the fall.
Telemedicine is often used in cases when a patient is not able to come to the office and can be very convenient. However, it can be hard to evaluate a patient from head to toe. During an in-person appointment, physicians can get a closer look at an infected area.
Dr. Dang enjoys podiatry because he can interact with his patients. "You want the best things for your patients," he says. "Podiatry allows that. We really want to work with people and their lives." From toenail removal to extensive foot surgery, "if it's below the knee – we can do it," Dr. Dang says.
A few precautions to help prevent a loved one from falling:
Make sure they are getting exercise to improve strength and mobility.
Monitor their sleep-inducing medications.
Ensure they are getting appropriate treatment of underlying medical issues.
Constantly evaluate their environment and install grab bars where needed.
Consider getting them a medical alert alarm/button.

Dr. Dang is passionate about his craft and caring for patients. Photo courtesy: Foot & Ankle Surgical Associates
Our elders are such a vital part of society and represent the heart and soul of our communities. It is imperative that we take the job of caring for them very seriously. They have so much to offer. We need to listen, treat them with respect and make sure they are well taken care of. Given the opportunity, they can teach us the knowledge they have learned in their lives. Check on your family members daily to make sure they are healthy and doing well. Should they happen to fall and get injured make sure they get to medical care as soon as possible.
Foot and Ankle Surgical Associates
1220 W. 1st St. Ste. B
Centralia
360-508-3338