It's been a long three months of staying home. Thurston County residents have done their part in abiding by the stay home order, and because of their prudence and persistence, our county is on its way toward the latter phases of the order where we begin to live our new normal.
Ralph's Thrifway in Olympia, our local, independent grocer for the past 75 years, has done their part, too. By installing one-way foot traffic signs, social distance markers, additional cleaning and sanitizing practices, and plexiglass shields, they continue to keep their customers and employees safe. With online-ordering for grocery pick-up and now contactless prescription delivery, they have continued to be the last and one of the most important pieces in the supply chain: the grocery store.
Pre-pandemic, it would have been hard to imagine the grocery store being the front-line of anything, but that's the thing about crises – you don't get to pick how things are going to go. When COVID-19 made it important to decide who was essential, grocery workers found themselves fighting in the frontlines to keep the shelves stocked and bellies full for our community. We're grateful for them.
There's no playbook in grocery, let alone during a pandemic. All you can do is pivot according to supply and demand, and in the grocery world, every day brings more pivots than a point guard during a basketball game. Ralph's and Bayview Thriftways are used to pivoting, and Ralph's latest one is a slam dunk for pharmacy customers.
Contactless Prescription Delivery in Olympia
Ralph's Thriftway now offers contactless prescription delivery right to your doorstep for a small fee. This new service is yet another way Thriftway is innovating to serve the needs of the community. While this service is convenient for some, it is vital for those who are at risk and still need to self-isolate, even as we open back up. Pharmacy Manager Kristi Camus shares that this new service arose out of the pandemic when Ralph's identified how incredibly helpful this service could be for folks who really need their medications delivered.
Camus details that for zero-five miles, the fee for delivery is $8 and the fees are on a scale per-mile that goes upward from there. Ralph's Pharmacy cannot deliver controlled substances that require a signature because the delivery is contactless, and they cannot deliver medicines that need to stay refrigerated as well. For all other prescriptions, the process is simple: call in your prescription by 12:30 p.m. on Monday, Wednesday or Friday, and same-day delivery will be headed your way.
Delivery service is offered on Mondays, Wednesdays, and Fridays only, so if you miss the 12:30 p.m. cut-off, your order will be delivered on the next day of operation. And don't forget Ralph's Thriftway Pharmacy has a drive-up window in the back of the store. Medications can be picked up in this way without a fee, anytime the pharmacy is open, Monday through Friday 9:00 a.m. to 7:00 p.m. and on Saturdays from 9:00 a.m. to 5:30 p.m.
For four generations, and since 1944, the Stormans family has served our community. Ralph's and Bayview Thriftways are the only two locally-owned grocery retailers in the South Sound. Their commitment to local has remained since the first store was opened, Ralph's Food Center, inside the Grand Central Public Market at 6th and Columbia Street in downtown Olympia. Though that store is long gone, the sentiments haven't changed, as evidenced by Stormans President Kevin Stormans.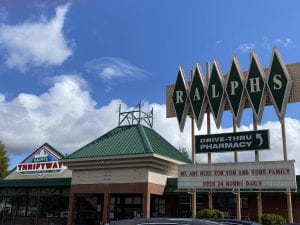 "It is a top priority for us to keep our employees and our community safe," Stormans says, "and our business model over the years has always been about adaptation because that's what we do as a local family-owned business – we adapt to our customers' needs and especially now because the unique environment the pandemic has created."
To learn more about contactless prescription delivery or to place your order, call Ralph's Pharmacy at 360-352 – 4426. The pharmacy is located inside Ralph's Thriftway store.
Ralph's Thriftway
1908 East 4th Avenue, Olympia
360-357-8011
Open 24/7
Bayview Thriftway
516 4th Avenue West, Olympia
360-352-4897
Open daily: 6:00 a.m. to 9:00 p.m.
Sponsored