For this article in Spanish, read it here.
Tobacco use remains the leading cause of preventable death in Washington. While helping smokers to quit is important, it is also critical to prevent young people from ever first starting to smoke or vape.
On January 1, 2020, Engrossed House Bill 1074 raised the legal age of the sale of tobacco and vapor products in Washington from 18 to 21 to protect youth from accessing these unhealthy products. The bill also states a person who sells or gives, or permits to be sold or given to any person under the age of 21 years any cigar, cigarette, cigarette paper or wrapper, tobacco in any form, or a vapor product is guilty of a gross misdemeanor.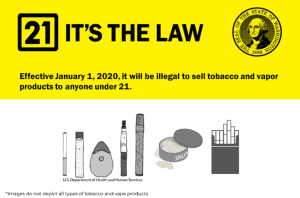 According to the Center for Disease Control and Prevention, nearly 9 out of 10 cigarette smokers first try smoking by age 18 and 95 percent first tried smoking by the age of 21. Also, alarming is that each day in the U.S. about 1,600 youth under 18 years of age smoke their first cigarette and nearly 200 youth under 18 years of age become daily cigarette smokers.
In Washington, the number of youth using cigarettes in 2018 is less than half of what it was in 2008. Yet with the introduction of vape products, there's been a significant increase in the use of those products among Washington's young people. Between 2016 and 2018, E-cigarette/vapor product use in 8th-grade students rose from six to 10 percent, in 10th graders vaping increased from 13 to 21 percent and in high school seniors, vape use rose 10 percent and is now seen to be at 30 percent.
Often teens believe vaping is safer than smoking. Only about one-third of 10thgrade youth perceived great risk of harm from using electronic cigarettes regularly, although almost three-fourths perceived great risk from smoking one or more packs of cigarettes a day.
The Washington State Healthy Youth Survey conducted in 2018 shows alarming statistics. In Lewis County, the numbers are even higher with the results of the survey conducted in 2018 showing even more youth here using tobacco compared to the state numbers. 
The 2018 Washington State Healthy Youth Survey also shows that youth find vapor products accessible with 68 percent of 10th graders reporting they borrowed vapor products, asked someone to purchase them or get them from a family member.
Young teens may not be buying tobacco products themselves, yet it is evident that many older teens and young adults are the people who purchase cigarettes and vape products for minors. By raising the minimum age to buy these products there is a decrease of access to tobacco products to students who use social sources like older friends and classmates to access them.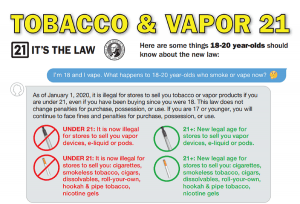 The National Institute of Medicine predicts that by increasing the age of sale for tobacco products to 21, there is a significant reduction in the number of adolescents and young adults who start smoking, reduced deaths from smoking and an immediate improvement of the health of adolescents and young adults.
The National Institute of Medicine also estimates by raising the minimum age for the sale of tobacco products to 21 will, over time, reduce the smoking rate by about 12 percent and smoking-related deaths by ten percent in the United States.
It has worked before when the minimum legal age for purchasing alcohol was raised. Nationally the increase was successful in reducing adverse effects of alcohol consumption including reduced drinking among youth, decreased alcohol dependence and less drunk driving fatalities.
By reducing the youth smoking rate, it not only saves lives but also reduces health care costs. In Washington every year, 2.81 billion dollars in health care costs are directly attributed to tobacco use. Yearly, the cost to individual households in Washington is $821.
By raising the age to buy tobacco and vaping products to 21, lawmakers are protecting the youth of Washington by reducing the number of kids who develop a lifelong addiction to nicotine. "This is a step forward for health in our community and across the state," says JP Anderson, MSW Director for Lewis County Public Health & Social Services.
Sponsored