When approaching Toledo Elementary School, it's impossible to miss the vibrant corner that is TES Kid's Garden. Complete with a pumpkin patch, orchard, perennial and pollinator areas, the space is where kids learn to understand the process of growing healthy foods, and physically connecting with nature while recognizing environmental stewardship.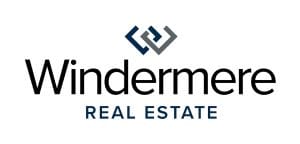 The idea for a school garden began in 2011 in collaboration with WSU Lewis County Master Gardener Program. With just a few hay bales for beds, Deidre Dillon, a mother of a student, set out to make sure the children of Toledo have a place to learn and grow food.
When Brooke Acosta's four sons started in school, she spent time volunteering in the garden. By that time, Dillon's child moved on to middle school, so Acosta stepped in as Garden Coordinator. "I've always gardened and so did my mom," she says. "Gardening is something I've always enjoyed and done."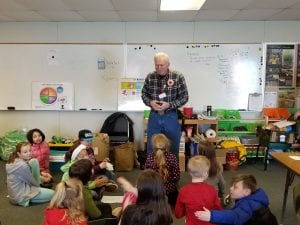 There is a range of reactions from the kids. "Regardless of if they love the garden or not there's such a huge benefit to them to have it here," says Acosta. "They so look forward to the classes each month just to have a break from their regular curriculum while doing some hands-on learning. The kids really respond well to it."
There is a wide variety of benefits to letting the students get their hands in the soil. "It's not just about growing food, which is a huge part of it," says Acosta. "It's a nice outdoor space that connects them with nature more. It gives them a bigger understanding of the world we live in and taking care of the environment. We talk about a lot of that in Garden Science. They learn about things like recycling and where does water go when it runs off."
The teachers also enjoy the space with their classes. Second-grade teacher, Nicole Bush is a huge fan of the garden. She has a bed she works on with her students throughout the year. She also loves to use the garden for art lessons. "It's a cool avenue to use the space," says Acosta. "She did a section on Vincent van Gogh and used the sunflowers as models."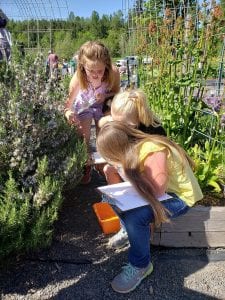 "Last year was my first here in Toledo and I fell in love with the garden," says Bush. "I've taught in four different states, both huge cities and small towns. I've never been anywhere that had a garden let alone a program like this."
Beyond Garden Science class, all students, kindergarten to 5th grade, can join the after-school Garden Club for free. There is also an opportunity to continue with the club in the summer months. Kids who help with the club are sent home with a bag of produce to enjoy with their families.
Recently, when Garden Club met after school a few middle school kids that had already been through the program stopped by. Walking through the garden they exclaimed, "I remember this!" or "I helped do this!" "It was really cool to see the older kids who aren't involved anymore come back and still light up remembering how they helped build it," says Acosta.
Intermixed with the raised beds and metal troughs are wooden benches built by students in the high school Woodshop Class. "They've built quite a few things for us," says Acosta. "Any time we ask, they are always really excited to do a project for us."
There's also further integration of the garden with the older student's classes. Dr. Trikosko's Botany classes grow seedlings to plant. The class also designs insect houses and other beneficial projects for the garden.
Volunteers are the reason the garden flourishes. As part of the PTO, there is a garden committee of the most dedicated volunteers. Pam Meade, Adea Anderson, Annie Jones and Natalie Carter are in the garden very regularly and help make all the decisions. Although there is a group of wonderful volunteers, the garden is big and a lot to manage and could always use a few extra sets of hands to help on a regular basis.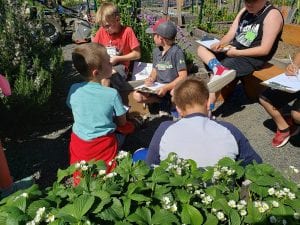 Currently, the Garden Club is fundraising to build a greenhouse. "It would be huge to have a greenhouse on-site," says Acosta. "Number one, being able to grow our seeds here so the kids can see that whole process of how they grow. We could also make the garden year-round and continue to grow lettuce and those types of crops all through the winter." A greenhouse offers the 370 plus students at Toledo Elementary an all-season outdoor classroom with space for 40 students at a time.
Without funding from the school district, the garden depends on the generosity of local people and businesses like Paula Burrows of Windermere to continue. "She's just so supportive of everything in the community and a big supporter of the garden," says Acosta. Two of the raised beds are sponsored by Burrows, one in memory of her late mother.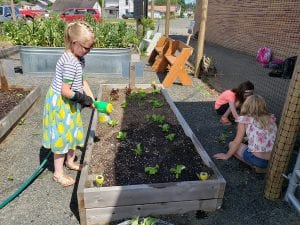 Acosta is very appreciative of the community of Toledo that supports the TES Kid's Garden. "They are hugely supportive of this program as you can see from our sponsors," she says. Each of the raised garden beds features a sign indicating the business who sponsored that bed. "Almost all the local businesses regularly sponsor the garden and are supportive," Acosta says. "The community is a huge piece of what we do. It really is a community garden at the school."
A savings account for greenhouse donations is set up at Timberland Bank. To donate write a check payable to TES PTO with greenhouse in the memo and mail to P.O. Box 982 Toledo, WA 98591. Questions contact Brooke Acosta at 360-219-6161 or brookeannsell@hotmail.com.