Does a full-bodied Bordeaux and a fluffy frittata make your mouth water?  The ilani Wine & Food Fest is happening October 25-27 and it's a foodies and wine lovers paradise. Sample from over 1,000 wines, beer and spirits, savor delectable dishes from top celebrity chefs, and maybe even learn a trick or two from the professionals! This Pacific Northwest premier wine and food event is only happening at ilani and is guaranteed to fill your weekend with fine wine and spirits, and exceptional food the likes of which you will not find anywhere else.
Celebrity Chefs Create, Entertain and Inspire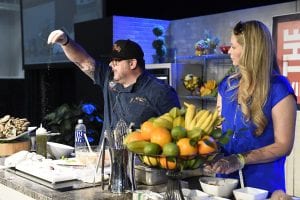 No other event in the Pacific Northwest will give you the opportunity to not only taste masterpieces from several top chefs, but also watch them create and even ask them questions! The ilani Wine & Food Fest will be showcasing several celebrity chefs throughout the weekend. Here is the current list of attending chefs, with more being announced as the event draws closer:
Chef Bruce Kalman – Champion of "Chopped," winner on "Beat Bobby Flay" and "Knife Fight," and
"Top Chef" season 15 contestant.
Chef BJ Smith – "Top Chef" season 14 contestant
Chef Brian Duffy – "Bar Rescue" appearances, "Date Plate" appearance, "Beat Bobby Flay" judge, and countless cooking segments.
Chef Govind Armstrong – Guest chef on Queen Mary 2, featured in many magazines including Bon Appetite, appearances on "Iron Chef America," "Top Chef," "Top Chef Masters," and more, and author of Small Bites, Big Nights: Seductive Little Plates for Intimate Occasions and Lavish Parties.
Chef Kevin Des Chenes – Named Top Chef by Las Vegas Food & Wine, winner of "Top Celebrity Chef Showdown," featured chef on several shows including "Chef Wanted," "Great Food Truck Race," and "Beat Bobby Flay," author of Beyond my Chef Coat.
Chef Mike Elder – Three-time winner of "Ultimate Cake Off."
Chef Mutsuko Soma – One of Food and Wine's Best New Chefs of 2019.
Chef Rick Browne – Instructor of Grill Master University, creator/host/executive producer of Barbecue America TV and creator of Barbecue America Magazine.
Chef Ronnie Lee – Chef, pitmaster and owner of Lil' Robbie's Beachside BBQ in Tofino, British Columbia.
Chef Rose Lawrence ­– Frequently on LA's "best of" lists for her bagels, pies, pastries, and brunch.
Chef Tyler Anderson – Owner of five restaurants, nominated as Best Chef in the Northeast by James Beard Foundation for the past six years, "Top Chef" season 15 contestant, winner of "Chopped" and "Beat Bobby Flay."
"I'm thrilled to be visiting ilani for the first time and returning to one of my favorite parts of the country," says Tyler Anderson. "I've had the pleasure of appearing at shows run by Michael and his 360 Marketing & Event teams for over a decade including the Sun Wine Fest at Mohegan Sun in Connecticut.  The second I received the call about the ilani Wine & Food Fest, I was all in. I'm confident it will be a memorable experience for all who attend, including me."
If you have been waiting for a chance to rub elbows with your favorite top chef or ask them how they create a signature dish, the ilani Wine & Food Fest is your chance!
Wine Tasting & Fine Dining Like You've Never Experienced
The ilani Wine & Food Fest was created to showcase the amazing wine and food experiences guests can expect from a stay at ilani, and the tastings are just the start of your adventure.
Each day of the Fest there will be The Grand Tasting, which will have plenty of food for pairing with 1,000s of wines, beer and spirit samples available to you. During the Grand Tastings, the chefs will be on the Kitchen Stage to answer questions and entertaining with demonstrations. Also, during The Grand Tasting, there will be a wine bottle pop up shop, and a few other select exhibitors offering lifestyle items.
"I am excited to be working with my co-competitor and roommate again from Top Chef, Tyler Anderson, along with what is shaping up to be one heck of a talented chef line-up for this show," shares Bruce Kalman. "I can't wait to work alongside this creative crew of chefs as we strive to provide an unparalleled culinary experience for the attendees of the ilani Wine & Food Fest."
For those looking for a bit more food, on Friday, October 25, Michael Jordan's Steak House Wine Tasting and Food Pairing will treat you to an elegant three-course meal, paired with an award-winning local vineyard. Or, head to Rose & Thorn's Bourbon Tasting if you are ready for a bit of spirit to end your night. A variety of fine bourbons will be paired with hors d'oeuvres and cigar sampling.
Saturday, October 25, provides even more events for both foodies and wine enthusiasts. Start your morning right with the Bloody Mary & Bubbles Brunch, where sparkling mimosas and Bloody Mary's will be paired with rich brunch favorites, expertly crafted, including frittatas, salmon, antipasto, seasonal grilled crudité and incredible desserts.
Along with The Grand Tasting, there will also be the Vintage Elite Cru Tasting on Saturday, for those who appreciate that good wine gets better with age. Not only will you get to sample the "best of the best" in vintage wines, but you will get to meet the winemakers during this special event.
End Saturday with the Celebrity Chef Dine Around to see these chefs create their best recipes at live cooking stations. Their signature dishes will be paired with the perfect wine or beer.
On Sunday, October 27, The Grand Tasting and the Bloody Mary & Bubbles Brunch are offered again, along with some other unique events. First is the VIP Chef and Champagne Brunch. A Willamette Valley sparkling rose is the star of this event, which will be paired with an indulgent brunch created by a VIP Chef.
End the weekend with the Paint & Sip, where you can sip wine, learn to paint with Ridgefield Art Association, and meet Norman Rockwell's granddaughter, Abigail Rockwell. Abigail will do a Q&A and perform a collection of jazz music.
Local restaurants and wineries. Celebrity Chefs. Quality spirits. The ilani Wine & Food Fest has the recipe for a perfect weekend and tickets are on sale now via Ticketmaster. Wine, beer and spirit tastings are included with the admission ticket to The Grand Tastings. Food samples will be sold separately by featured restaurants. More celebrity chefs will be announced in the coming weeks. To stay up-to-date, visit the ilani Wine & Food Fest website and follow the ilani Facebook page.
Sponsored