The talented physicians of Providence Medical Group – Chehalis Family Medicine provide care for all ages. They also offer mentorship and guidance as a residency clinic site. Since 2014, the Chehalis Rural Training Program has helped improve access to medical care and train doctors to practice rurally. They currently have three new residents as part of the class of 2022. The trio was chosen from more than 1,000 applicants from across the country (and internationally).
The trio is accepting new patients – particularly interested in obstetric and pediatrics – including those with all forms of insurance.
Brianna Sexton, MD
As a National Health Service Corps Scholar, Dr. Sexton attended the University of North Carolina Chapel Hill School of Medicine. Originally from a small logging town in Oregon, she knew her long-term intention would be rural medicine. "That was my focus when looking for programs and this one fit me really well," says Dr. Sexton. "Additionally, I wanted someplace where there was a larger medical center nearby so I could experience the complexity and volume of patients that end up in those bigger centers."
The lifestyle of a smaller area coupled with the beauty of the Pacific Northwest drew Dr. Sexton to Chehalis Family Medicine. "Rural family medicine allows you to do so much more and be involved in the community," she says.
Already establishing patients at Chehalis Family Medicine, Dr. Sexton enjoys forming relationships. She checks in with her patients via phone and through the patient portal MyChart. She looks forward to learning over the next three years and feels that Providence and the Lewis County area is a great fit for her future goals.
Jason McKinley, MD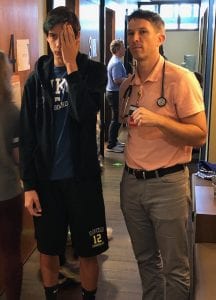 Hailing from a rural area of British Columbia, Dr. McKinley attended Saint George's University School of Medicine. Dr. McKinley wanted to train rurally because his future goals include practicing in a rural area to allow for deeper connections.
He was drawn to the program's attention to detail. "I got a great feeling when I came here for interviews from Dr. Miguel Lee and Dr. Rein Lambrecht," he says. "While talking with the more senior residents, there was a sense that they really encourage you to do your best. That's what I need. I wanted to work in an environment that was supportive."
Dr. McKinley is already enjoying the community with his wife and daughter, especially a recent swimming visit to the Tenino Rock Quarry. He looks forward to continuing to exploring the greater Lewis County area with his adventurous family. Dr. McKinley also appreciates the environment he works in. "The clinic itself is new and invigorating," he says.
"The people I met were fantastic. I had a great first impression from all the staff, nurses, and other residents. It's just the perfect combo of everything for me."
With a passion for people, Dr. McKinley enjoys getting to know whole families long-term, treating them at all life stages while dealing with a variety of conditions. "I love people and establishing relationships," he says. "I want to get to know not just people but their context. How do they enjoy their life? Who do they live with? That's really important in a rural setting. If I can help be a support and help people get whatever they might need, that's something I would like to play a part in."
Kate Slaymaker, DO
Dr. Slaymaker attended the Edward Via College of Osteopathic Medicine – Virginia Campus. She was drawn to rural practice from the start. "I grew up in a small town in central Virginia and have dreamed of practicing medicine in a rural area in Washington," she says. "I applied to rural training programs where I believed I could get the best training to address the needs of the type of community I wish to serve."
Providence's program turned out to be an ideal fit. "I love this area," Dr. Slaymaker says. "It is absolutely beautiful and the people have been lovely to work with. I have enjoyed getting to know the Providence system and the amazing providers working within it over the past couple months. It is abundantly clear that Providence strives to do what they believe is in the best interest of their patients."
Dr. Slaymaker has especially enjoyed working with the Providence team. "Starting residency is a big change and at times scary," she says. "Everyone has been warm, welcoming and supportive, and I am looking forward to continuing to work together in the coming years … I am honored to be working alongside such a warm, loving and intelligent group. I learn something from each of them each day that we work together."
After completing her residency, Dr. Slaymaker plans to work as a family physician locally.
With three great new additions to the medical team at Chehalis Family Medicine, Providence Medical Group continues to expand patients' options. The rural residency program is just one of the ways Providence is working to be a regional health partner while bringing more community-minded physicians to our area.
Sponsored