Foot and Ankle Surgical Associate's primary mission is to improve quality of life by providing patients with the highest quality of care. With six convenient locations in Centralia, Olympia, Tumwater, Lacey, Tacoma and Yelm, Foot and Ankle Surgical Associates provides routine check-ups, custom orthotics, physical therapy and surgical solutions using state of the art diagnostic equipment.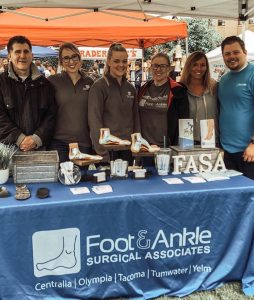 In addition to providing outstanding medical care, the FASA team also participates in various community service activities. Now is your chance to join them and give back to those in need with a truly lifesaving mission.
On Friday, August 9, stop by and donate lifesaving blood at FASA's Parking Lot Bloodmobile. Open to the public, the blood drive will take place at 1610 Bishop Road SW Building 7 in Tumwater from 9:00 a.m. to 3:00 p.m., closed for lunch from 11:00 a.m. to 12:00 p.m.
"We've had multiple different community events in the past with a lot of them focusing on food drives and school supply drives," says Destini Martin, Community Relations Coordinator with FASA. "I saw the extreme need for blood and decided what better to do than host a drive?! I have seen so many people's lives saved from receiving donor blood through my jobs in healthcare. That inspired me to help even more."
While many people have already participated in blood drives, some are nervous about the prospect of donating. If you fall in the latter category, don't let fear get in the way. Donating blood is simple and quick. It also saves lives – well worth the quick poke. Plus, it's simple; donors sit back and relax while the donation is collected. Afterward, you can grab a refreshment and snack and get on your way.
Donated blood helps in many ways. It's used in trauma care after life-threatening accidents and for those who need it during surgery or organ transplants. Donations also help people fighting a chronic illness like cancer, blood disorders and diseases, and other conditions.
Donating blood makes a difference. Did you know:
Just one hour of your time can save three lives.
In the United States, someone needs blood to survive every two seconds.
One in three people needs a lifesaving transfusion during their lifetime. Those in need are our neighbors, loved ones, friends and colleagues.
"Every time I've given blood – even though I'm afraid of needles – I feel so grateful that I can potentially save three people from my few minutes dealing with the needle," says one frequent blood donor. "It's a minor scare, for someone who is going through so much need."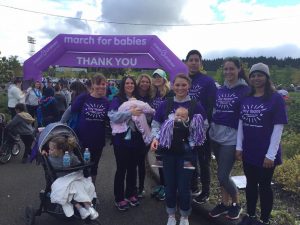 You can also help FASA create a healthier community on September 22 at the Walk to End Alzheimer's event. FASA is accepting donations at all their locations or online. Help them reach their goal of $2,000 for the cause.
Held annually nationwide, the Alzheimer's Association Walk to End Alzheimer's is the world's largest event raising awareness and funds for Alzheimer's care. Proceeds help support those living with the disease and fund research for a cure.
Alzheimer's disease is the sixth-leading cause of death in the United States. More than five million Americans live with the disease. "I am walking in honor of my grandma Bobbie, who is currently fighting her way through Alzheimer's disease," says Martin. "Walking reminds me there is a chance that one day someone could be walking to honor someone that has been cured of the disease. I hope to see that day."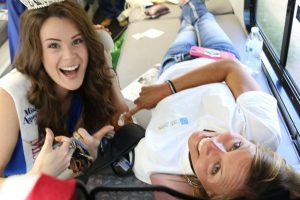 Since 2002, when Dr. Terrence Hess established Foot and Ankle Surgical Associates, the practice has focused on giving back to the community. Everyone at FASA works to this end, donating food to the food bank, gathering school supplies for students, planting trees, serving long-distance volunteer missions, and participating in countless fundraising events and community service.
"Foot and Ankle Surgical Associates really push to help people within our community," says Martin. "We want everyone to strive to help others, whether it's schoolchildren having supplies, or donating socks to people in need. We love the thought of people being able to succeed in all ways."
Join FASA and help others survive, thrive and regain their health by donating blood on August 9. Sign up by emailing Destini Martin at dmartin@anklefoot.net or online using sponsor code 105B.
Sponsored