Although 20 percent of the U.S. population lives in a rural area like Lewis County, only about 10 percent of the nation's physicians practice outside of urban areas. This disparity creates a healthcare shortage in small towns and cities. Providence Medical Group is working to change that here at Chehalis Family Medicine.
Spacious and comfortable, the well-designed clinic treats everyone from kids to adults. The whole family can come to Providence Medical Group – Chehalis Family Medicine. "From womb to tomb, as we call it," says Dr. Rein Lambrecht. "That's how we like it. We take care of them while they're pregnant, then we take care of their kid. We even see grandma. It really helps to take care of a whole family; then you get to know all the family's dynamics."
Services include screenings, immunizations and preventive care for adults, and
well-child visits, screenings, and immunizations for children, including newborns. The doctors also offer diagnosis and treatment of chronic and acute illnesses, and coordinating health care with specialists when needed. The clinic cares for women's health, including reproductive health care and low-risk obstetrics. Many procedures are also offered including casting and minor dermatological procedures.
Providence Medical Group clinics are certified as patient-centered medical homes. With various services like pharmacy, behavioral health, and in-house laboratory services, the centrally located clinic is easy and convenient.
"The idea is, instead of having to travel, we try to do as much as we possibly can in the clinic with very highly qualified people," says Program Director Dr. J. Miguel Lee. "We want patients to avoid having to get healthcare in multiple places that don't necessarily talk to each other."
The doctors at Chehalis Family Medicine are a tight-knit group. "We've managed to put together a group of core faculty that is really unique," says Dr. Lee. Faculty includes Dr. Lambrecht – Family Medicine, Dr. Steven Elrod – Pharmacy, and Erica Dennehy – Clinical Social Worker and Chemical Dependency Counselor.
Training the next wave of family providers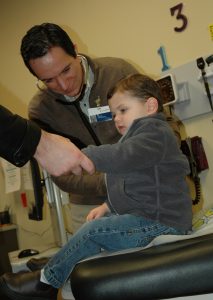 Chehalis Family Medicine also offers a rural residency training program. Residents apply specifically because they are seeking to practice in a rural area.
Now in its fifth year, the program has two residents in their third year of training who are about to graduate, three second-year residents, three first-year residents, and another three about to begin. One of the benefits of the program is that it draws talented physicians to our area. Typically, about 30 percent of residents stay in the area where they trained.
More than 1,000 applications for the program come from around the country – and the world. Providence is careful in their selection. "Certainly, we look for strong work ethic and good medical knowledge, but we also look at things that are more subtle," says Dr. Lee. "We want to recruit people who are really passionate about making the world better by caring for the underserved."
"We have turned this into a fantastic place to learn," adds Dr. Lee. "That and the community, which is really nice to take care of, is incredibly attractive to family medicine resident applicants."
The applicants are also screened based on their volunteer work. "We look for someone who is really driven because we are a small program; so they must have a lot of initiative to go out in the community," says Dr. Lambrecht. "We pick people who want to and enjoy taking care of patients in a rural area and understand the difficulties, are culturally competent, and very humanistic people."
The program has worked well for both sides. Applicants rank where they want to go when they apply and the clinic ranks who they want. Everyone in the program so far has chosen Providence as their first choice. They've also been the clinic's first picks. "We've been really successful in the match for sure," says Dr. Lee.
The residency program includes a wellness curriculum. "We really care about them with a strong curriculum that focuses on them not just learning how to be doctors but also how to take care of themselves," says Dr. Lambrecht. "I think our residents really like that because they feel well taken care of."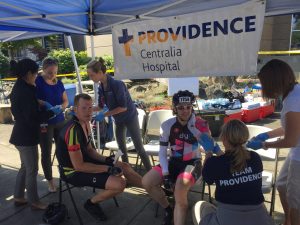 In return, residents bring fresh and creative ideas to the program. "Residents are always very enthusiastic," says Dr. Lambrecht. "It's nice to have fresh eyes. They want to do really well by their patients so they take extra time and steps to really make sure you are well taken care of."
Chehalis Family Medicine is currently accepting new patients. They take all levels of insurance including Medicaid and also serve those who don't have insurance. Give them a call for your next medical need and you'll find compassionate care from competent and kindhearted physicians.
Chehalis Family Medicine
931 S. Market Blvd.
Chehalis
360-767-6300