Ballet is a vibrant tapestry of graceful dancers, magnificent music and spectacular costumes. The latter are an essential part of any production. They create a magical living image. 
Melinda Brein of Dancing Diva Designs creates breathtaking costumes and tutus for Centralia's Ballet Theatre of Washington and Ballet Northwest in Olympia. Her work reflects a spark of magic and her personal drive, love of learning and perseverance are legendary.
Melinda taught herself to sew as a child. She loved the local library. "You could get 50 books at once," she says. "I'm still not sure how I always got them all home but I would max out my books on any subject that had to do with arts and crafts."
As a child, she loved paper dolls and would hand-sew dresses for them. She also plays classical piano and would design gowns for herself out of blankets. "I always had the big ball grown dream," she says.
In college, she finally purchased her first sewing machine.
Melinda wished she had done theater as a child. Luckily, she's not one to sit around fantasizing about a missed opportunity. She decided to go for it and auditioned at The Evergreen Playhouse, eventually becoming their costume manager. "I soaked in everything I could while I was there," she says.
She fell into the world of ballet when her kids, Jacob and Elina, became involved in dance. Now, between her daughter's senior year and costume design for two ballet companies, Melinda is frequently on the go. "Being a dance family means a schedule that is unusual," she says. "It's a lot of late nights because we don't get home until 10. We're a little bit different from our neighbors but they are used to us now. We sleep in and are gone a lot, but we love every moment of it."
Melinda says her husband Jon is super supportive through the late nights. "He calls himself a Nutcracker widow during Christmas," she says. "But he is always there in the audience."
Even with long hours, Melinda loves the excitement and fun of backstage life. "From the audience, you see the magic but backstage is so exciting; I love it," she says. "It's so different from what the audience sees. I have so many fond memories from behind the scenes."
A costume or tutu takes about a month to finish. Beginning with a director or client meeting to decide the direction, Melinda sketches from the descriptions and designs around the choreography. Designing from scratch, Melinda has to see how dancers move to make a costume that works. "When I first start costuming in the theater, they wear normal clothes," she says. "But dancers also move in a way that normal people don't move." She offers options and, once a determination is made, she goes back and forth with any needed changes.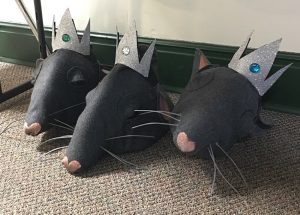 Her first tutu was created from a kit and she learned from there. "It was a milestone for me to make the elusive tutu because tutu makers keep their secrets close to their hearts," she recalls. "I myself feel if I am blessed with these skills, I should help others that are interested and teach as I go."
Melinda's creative mind is always going. She makes beautiful jewelry, luscious textiles and art dolls, a favorite since childhood. "My first doll was my dad's work sock I stole from him and made a sock doll," she says. "It's beautiful with hot pink cheap yarn hair."
Today her dolls wear mini versions of her costumes made out of scraps saved from her dance ensembles.
In her downtime, Melinda also enjoys bead weaving. "It's a recharge and so soothing to sit and make something from a little pile," she says. Her other crafting skills also help her in costume design.
When time allows, Melinda teaches classes at Bead Opus or one-on-one and in small groups. "I love when someone wants to learn," she says. "When they get it and complete something, I know I opened a door for somebody. It makes me happy to help others pursue their passions."
Melinda is currently looking forward to her upcoming spring projects, Ballet Northwest's "Crescendo" and Ballet Theatre of Washington's "The Sleeping Beauty." She continues to support her nearly-grown children in their dancing endeavors and enjoys her creative art-filled life.
She implores others to explore our lively local art community. "Love and support the arts because it is so important in our communities for all ages," Melinda says. "It gives you something, whether you are onstage, backstage or in the audience. No matter how small or large, go see something local. The audience is just as important as the characters. There are so many ways to get involved, so find one you are comfortable with."
For more information, visit Dancing Diva Designs.