Led by senior Austen Apperson's two individual state titles, the Adna High School boys' track and field team captured the program's first-ever Class 2B state championship at Eastern Washington University on May 25.
Apperson was his usual spectacular self, winning the 800 in a meet record time of 1 minute, 58.40 seconds and the 3200 in 9:42.00. He also joined teammates Zander Blankenship, Jarod Keys and Jackson Humphrey in defending the Pirates' state title in the boys 4×400.
Apperson nearly duplicated his Herculean feat of taking home four state titles but had to settle for second place in the 1600. His final time in the event of 4:16.60 was slightly faster than his state winning time in the 1600 last year, but Walla Walla's Justin Roosma, who finished second to Apperson last year, won the race in a speedy 4:15.07.
Despite the second-place finish, Apperson's efforts were more than enough to power the Pirates to the overall state team championship. Adna finished with 54 total points. Northwest Christian (Lacey) was second with 35 points, while Ilwaco, Northwest Christian (Colbert) and Kalama, which edged Adna last year to win the team title, rounded out this year's top five placing teams.
Morton-White Pass was seventh in the boys' standings with 29 points, while Napavine (27) and Pe Ell (26) finished ninth and 10th, respectively.
Apperson's seven career state championships places him second on the program's all-time list. Regyn Gaffney, a 2015 Adna graduate, won a remarkable 11 state titles over her four-year track career as a Pirate, including four consecutive 2B state championships in the girls' 100.
Adna also received a third from Collins in both the 200 (22.83) and 100 (11.54).
Napavine senior Draven Riddle was second in the triple jump (42-10.50) and third in the long jump (21-08.50), while freshman teammate Keith Olson placed second in the shot put with a throw of 49-03.25.
Pe Ell had three individuals place at the 2B boys meet with senior Dana Isham posting a fifth-place finish in the long jump (20-00.75), sophomore Braeden McAllister getting fourth in the 110 hurdles (16.79) and junior Jeremiah Yost earning a second in the discus (138-09) and a fifth in the shot (45-08.75).
Senior Tristen Storey was a dual medalist for the Morton-White Pass boys' team, finishing second in both the 100 (11.50) and 200 (22.57).
Toledo saw three individuals – Anthony Peak (fifth, 110 hurdles), Braden Bramhall (fifth, 100) and Nicholas Marty (fourth, 3200) – medal, while it's 4×100 team was second.
Winlock's Bryce Cline rounded out the list of local placers at the 2B boys state meet. The junior finished fourth in the high jump (6-00.00).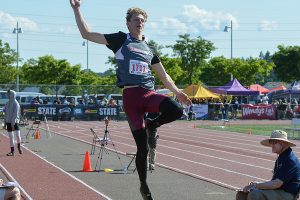 Toledo and Onalaska both had state champions at the 2B girls' meet with Toledo junior Kallie Schaplow claiming the state title in the javelin with a throw of 124-02 and Onalaska junior Carmen Cleveland-Barrera posting the top mark in the shot put (41-04.50).
The Adna girls' 4×400 relay team of Lauryn Apperson, Kaylin Todd, Maddie Kleemeyer and Faith Wellander finished fifth in the event.
W.F. West senior Colby White closed out his high school career by medaling in two events at the Class 2A state boys' championships at Mount Tahoma High School in Tacoma.
White, who won the high jump state title in 2018 after clearing 6-7, was fourth in the event this year with a top height of 6-04.00. Burlington-Edison senior Taino Ferdinand won the state championship with a jump of 6-10.00.
White cleared 6-04.00 on his second attempt, before missing the mark in three attempts at 6-6. Woodland's Alexzander Bishop was second at 6-06.00, while Tumwater's Trent Kibler was third after clearing 6-04.00 on his first attempt.
White also finished eighth in the triple jump (42-06.00) and ninth in the long jump (20-03.75). Fellow Bearcat Jaiyden Camoza was also a finalist in the long jump, finishing fifth (21-01.00).
The W.F. West 4×100 boys' relay team finished fourth with a time of 43.74. Washougal (43.15), Hockinson (43.19) and Lakewood (43.31) completed the order for the top three teams in the event.
Megan Flexhaug gave the Bearcats their lone top 3 finisher on the girls' side after the senior finished third in the pole vault. Flexhaug, who was ninth at state last year and won both the 2A Evergreen League and 2A District 4 championships, cleared 10-06.00.