For a culinary experience sure to delight the taste buds, join United Way of Lewis County at their annual Chef's Night Out. This year's event is on June 15 from 6:00 to 9:00 p.m. at Jester Auto Museum and Event Center. Now in its 11th year, the fundraiser brings local top chefs under one roof for an unparalleled evening of food, fun, and philanthropy.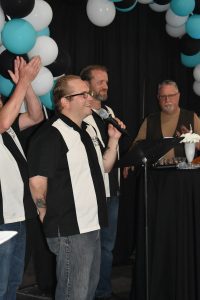 Set your mind to island time and come as you are, or get into the spirit and find something fun to wear. "Island attire is inspired but not required," says Angela French, United Way Resource Development Director. "It's fun to see the guests dress up. They really take it to heart. Last year's 50s Grease theme was a hit."
As one of United Way's premier fundraisers, the 2018 event raised just shy of $85,000. With a goal of $100,000 in 2019, United Way needs the community's assistance to help those in need.
United Way invites businesses to align their philanthropic goals with the community through Chef's Night Out sponsorships. "Our Chef's Night Out sponsors are tried and true and believe in what United Way does for this community," says French. "We are incredibly thankful they chose United Way and this event to help us fulfill our mission of lifting families out of poverty." Top sponsors include Pacific Mobile Structures, Title Guaranty Company of Lewis County, Port Blakely, Callisons, Lucky Eagle Casino & Hotel and The Chronicle.
Beyond fundraising, the ultimate goal of this event is to showcase the unique culinary talent in our area. With chefs like Donnie Stancil from McMenamin's Olympic Club, Shane Wright from O'Blarney's Irish Pub, Dawn Lawson from Dawn's Delectables, Darin Harris from Boccata Restaurant, and Jack Heinselman and Kevin Bray from Lucky Eagle Casino, this meal is guaranteed to be delicious. New to the chefs' team this year is Hub City Grub's Eric Bostick and Garrit Pannkuk and chef Laurel Khan from Mackinaw's and Curious.
"These are all great establishments and chefs who are so extremely passionate about what they do every day," says French. "It's exciting to see them interact with each other and develop this incredible menu. They really play off each other's talents to come together to produce this unique culinary experience and an exceptional meal at Chef's Night Out."
Although the menu is island-inspired, it's top secret until the big reveal on the night of the event.
Guests get to watch these talented local chefs work together and hear from them during the program. This year they'll also personally serve dinner for added community engagement. The team is excited to share what they've created this year. "I love how this event brings together the chefs in our community," says Stancil. "Our work benefits a wide range of people that need help. Together, we make a difference by helping each other to succeed."
Get your tickets now for this sell-out event. "You are in for a real treat," French says. "At United Way, we love getting new people involved in some capacity – volunteering, giving, or attending an event. It's fundraising events like Chef's Night Out that support United Way's mission of lifting 30 percent of families out of poverty by 2030, but also a fun night out."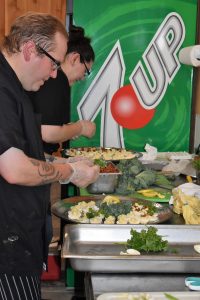 Chef's Night Out features fantastic live and silent auctions. Top items include unique experiences like a week's stay in Mexico, a trip to Jamaica, a VIP craft cocktail night at Sandstone Distillery, and a BBQ party donated by Ramblin Jack's Rib Eye. "This is such a fun event," says Todd Chaput, Holiday Inn Express & Suites general manager. "My wife and I look forward to it each year. We are big fans of United Way, and appreciate the many partners they bring to the table."
United Way partners with organizations and government agencies to collaborate on the big issues in our county. Their goal is to reduce poverty through access to affordable housing, quality early learning, and additional resources.
Why are events like Chef's Night Out and Power of the Purse so important to United Way and the families they serve? In addition to funds, these events offer a deeper connection to the community. "Fundraising events are a driving force for our success," says French. "It gets new people involved and brings community partners together to make a big impact in Lewis County. If we didn't have these events, it would be difficult to accomplish the important work of United Way."
Bringing people together is at the core of United Way's mission. "We are very thankful and grateful this community really steps up and supports our mission," says French. "There is no way we would be where we are today if it weren't for the community members understanding the role of United Way and investing in our programs.
Don't miss this exceptional fundraising event and the opportunity to change lives make an investment in our community through United Way. Tickets are $80 per person or $640 for a table of eight, available online.
United Way of Lewis County
450 N.W. Pacific Ave.
Chehalis
360-748-8100