Statistically, one in four women is sexually assaulted or experiences domestic violence. One in six boys is sexually assaulted. This is one of the worst experiences in a person's life. Where do you go when something like this happens?  The Human Response Network (HRN) of Lewis County is the only local organization accredited to help victims regain their lives.
HRN advocates work tirelessly to provide direct services 24/7. Last month, they served 117 domestic violence and 15 sexual assault survivors.
Although this number is large, it doesn't include everyone. Sadly, many survivors never come forward. The situation can seem defeating. Fortunately, there is hope and you can help.
How? Further HRN's goal with direct donations to cover everything grants don't.
Want to help and have fun at the same time? Sign up for the second annual Stand-Up Guys & Gals Golf Tournament at Riverside Golf Club on June 29 from 9:00 a.m. to 2:00 p.m. Sponsorships are also needed.
The event launched in 2018 when 50 golfers hit the green for a good cause. This year's goal is to fill the tournament with 144 golfers and raise $25,000. Participants of all ability levels can enjoy the fun with a four-man scramble format. Get tickets now at Brown Paper Tickets for $100 per player. Entry includes 18 holes, range balls, cart and a delicious barbecue dinner.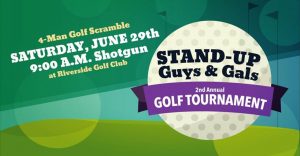 The fun begins before the first club is even swung. Start off with exciting contests and a silent auction.
You can win big if you dominate on the links. Last year's big prize was a four-person round at Chambers Bay Golf Course. It's up for grabs again and will be awarded to the top team.
First responder teams can compete for a special trophy, intended to honor their essential role in preventing and responding to abuse. "We want to use this tournament as a platform to recognize and thank first responders for their efforts in the fight against domestic violence and sexual assault by responding to those situations," says Jena Sorenson, HRN Board President. "We encourage them to come out and play."
Not a golfer? Sponsors are needed and deeply appreciated. Businesses or individuals can contribute with hole sponsorships, by donating prizes and auction items, and more. Current generous sponsors include Callisons, Paula Burrows of Windermere Centralia, Riverside Transport, Sorenson Transport, Century 21 – Lund Realtors, Title Guaranty Company, I-5 Cars, and DSU Peterbilt & GMC.
This event means a lot to participants and those they've come to support. Last year a golfer shared his story with HRN's Executive Director, Kristine Camenzind. "He told me about his wife who was previously in a horribly abusive relationship and all the trials and hardship she went through," says Camenzind. "It was heartwarming in the sense that even if you're not a victim, you know somebody who is and we need to support them."
Camenzind started with HRN in April of last year. With 18 years of experience in the movement, her expertise is invaluable. Many years ago, she experienced the horrors of an abusive marriage firsthand. "When it finally became unbearable and I was really afraid I was going to die, I went to Safe Place," she says.
When she arrived with her small children in tow, Safe Place helped her get a protection order. "I was terrified I was going to be caught," she shares. "The advocate helped me with the process and walked me out to my car. It was a huge relief and I thought, someday I need to do that too."
With a supportive family and help from advocates, Camenzind overcame the abuse and began again. Her story is one of triumph over heartbreak.
When the HRN director position opened, she knew it was where she needed to be. "I love this job, the work and the diverse group of individuals we see," she says. "I love seeing women empowered. My favorite part is helping women through the legal process. When you first go to court, they might be shaking. Then you go to court several months or a year later, and they're empowered. It's really rewarding."
Camenzind hopes to expand HRN's services by providing mobile advocacy to the entire county, particularly to the underserved east side. When people are in a crisis situation, transportation and communication can be huge barriers to success.
For the last 50 years, Human Response Network has been there for Lewis County residents in crisis. It began as a volunteer information/referral crisis line for teenagers in 1968, then expanded to all residents in 1975. The organization added direct services in 1978. In 1988, they opened a shelter for victims of domestic violence. Today, the organization continues to operate a 15-bed shelter and a 24-hour response line.
The Human Response Network believes everyone deserves to feel safe. Their dedicated advocates envision a world where everyone lives in a safe, violence-free home. Help them realize this vision by supporting their efforts and joining the Stand-Up Guys & Gals Golf Tournament.
If you or someone you know needs help, contact Human Response Network 24 hours a day at 360-748-6601 or toll-free at 800-244-7414.