Holiday Inn Express & Suites first opened its doors on May 18, 2009. "It was kind of neat to watch the building go up," says General Manager Todd Chaput. "The frame is stick-built and then the interior was built like Legos. It was fun to watch the big cranes set in a whole room."
Many staff members have been at the hotel since the beginning. Original employees include Assistant General Manager Pamela Johnson, Executive Housekeeper Amber Towne, Assistant Housekeeper Yuliya Wallace, Lola Blakey in the lobby, Penny at the Night Audit, Alma in laundry and Javier in maintenance.
Hiring began before the hotel was even complete. Chaput did much of the initial work from home. He conducted interviews at The Shire and had the new employee intake in his dining room. "It was kind of an odd start and a funny start to the whole thing," he says.
Because there's low employee turnover, return guests enjoy seeing familiar faces at the hotel. Chaput credits employee retention to his practice of hiring based on behavioral questions focused on personality over qualifications. "We hire people you would want to hang out with," he says. "You can train a person to do anything but we look for cool people that are fun, engaging and intelligent."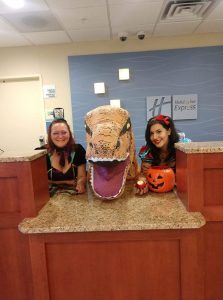 Chaput structures interviews accordingly. Sometimes he doesn't even discuss qualifications and instead focuses on getting to know the applicant.
Many local organizations regularly meet at the hotel including United Way of Lewis County, Centralia-Chehalis Chamber of Commerce, Twin Cities Rotary Club, and the Economic Development Council. "We appreciate all the support these organizations and businesses have provided," Chaput says. "We try to support them as best as we can too."
The Holiday Inn Express is a sponsor of United Way, the Boys and Girls Club, Twin Cities Rotary, and the Visiting Nurses Foundation. The hotel also donates its excess linens to local shelters and organizations such as Love INC.
While many guests come to Holiday Inn Express for business or on vacation, others arrive on the worst day of their life. The hotel becomes a temporary home for people who have lost everything. "Whether it be the loss of a loved one or devastation from losing their home, we see them in moments of hardship," says Johnson. "Over the holidays it's especially hard. We do our best to make them as comfortable as possible while they're with us."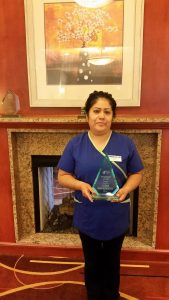 Holiday Inn Express staff have personally brought these families needed items. They've even pooled their resources to purchase Christmas gifts for kids. They wrap and place these special presents under the hotel's tree for the ultimate holiday surprise.
Guests of all backgrounds form real connections with Holiday Inn Express staff. Some even like to play little jokes. One of the funniest encounters in the last 10 years was with a well-known regular guest, who first stayed at the hotel in 2009 for work. One day, the guest was enjoying the hotel's free fresh-baked cookies. Johnson was at the front desk when the guest walked up, smiled a toothless grin and said, "The cookies broke my teeth!" Johnson was horrified. Then the guest started laughing and said, "Just kidding!"
This guest stayed at Holiday Inn Express hundreds of times over the years, until he retired in 2016. He brought his wife along for his final stay and hotel staff created a memory book with all the stories and pictures that were taken over the course of his time there. "We were all crying as they left," says Johnson. "We still send holiday cards to the family and receive phone calls once in a while from them."
Many Seattle to Portland bike riders stay at Holiday Inn Express. A few years back, the desk received a frantic phone call from a stranded rider with a flat bike tire. The man was from out-of-state and didn't know where he was. Tavohna, the hotel's sales coordinator, drove the local portion of the route looking for the stranded guest. After talking to quite a few people, she finally found him. She put his bike in her car and drove him to the hotel.
The bicyclist was unable to complete the ride, so Holiday Inn Express staff went above and beyond again. Chaput drove him to Seattle so he could catch his flight. The guest couldn't believe it but hotel staff understood his plight and wanted to do what they could to help.
After a decade in Chehalis, Holiday Inn Express & Suites wishes to thank the community for their support. "With the support we get from the public, we want to support the community as well," says Chaput. "We found that if you support the community, they will support you back."
Holiday Inn Express & Suites
730 N.W. Liberty Place
Chehalis
360-740-1800
chiefd@hotelservicesgroup.com