A patient is in their bed, chest moving up and down, and Shelley Stoner is there. Shelley, a fourth-generation Centralian, sees some people on their worst days and others on their best – she wouldn't have it any other way.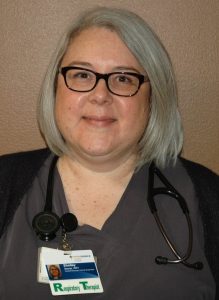 As part of the care team for critically ill patients, much of her job at Providence Centralia Hospital is maintaining stability. Respiratory therapists care for patients with cardiopulmonary disorders ranging from asthma and COPD to lung trauma, cardiac arrest, and other life-threatening conditions. Many of Shelley's patients require life support. She also covers all high-risk deliveries, such as premature births. "It's a really exciting job because you get to be in the highest energy environments," she says.
Shelley finds joy in helping new life enter the world. "I think that is a special day," she says. "Everyone's family is there and it's heartwarming to provide comfort and to be part of their joy with the birth of a new child."
Shelley completed her required prerequisites at Centralia College, followed by a two-year online program. She earned her Associate's of Science degree before undergoing a thorough licensing process through the State. Along the way, Shelley was grateful to receive support and substantial financial assistance through Providence's tuition reimbursement program.
Shelley started her career as a respiratory tech, then advanced to become a registered respiratory therapist. She is now the Cardio-Pulmonary Services Department supervisor. She appreciates the opportunities Providence offers for career advancement and continuing education. It has made a big difference in her decade in the healthcare industry.
In addition to monetary assistance, knowing she has the support of Providence and fellow caregivers reassures Shelley that she can reach her goals. "Here you get a lot of support from this organization – both mentoring and financially," she says.
Leaders like Shelley are offered opportunities to pair with managers and directors as mentors. "It gives you someone to reach out to for guidance," she says. "Providence offers a ton of leadership training for its staff. Acute care is interesting because to move into these leadership positions, you need a clinical background most times. Then you find yourself elevated and wondering what happens next; Providence is awesome about supporting that growth."
Shelley is also buoyed by operating in an engaging environment alongside people doing a wide variety of work. This dynamic structure is especially powerful when coupled with Providence's family-like culture. Together, these aspects gave Shelley the support she needed to advance her career.
"I was able to work with other practitioners throughout my entire education so it was hands-on learning at almost all times," she says. "There is a real range of levels of experience in this hospital. There are a lot of people who have been working here for years. The general support inside the building was super helpful to me in my process."
And she's not done yet. Shelley is currently enrolled in a master's program in healthcare administration. "The primary reason to do it is to learn more," she says. "I feel like I have a good core set of clinical skills but there is more to learn. It will make me better in my work and able to move into different positions."
Shelley plans to make Providence Centralia her forever home. She feels intensely connected to both those she works with and the people she cares for. "Having been born and raised here and having so much family here, I find myself in the position of knowing many people I care for, especially in the ER," she says. "I feel like it's a real honor to be with a family when they are in crisis and to potentially be a comforting presence for them."
Providence's mission to provide services for the underserved resonates with Shelley. "I want people to understand we truly live the mission," she says. "One of the tenets is 'Know me, Care for me, Ease my way.' We are truly committed to doing that for the community here."
During Shelley's first day at Providence Centralia, an administrator said, "You are going to see people often on the worst day of their lives; and that is your regular day." It's something she still keeps in mind – and easing their way is a responsibility she takes seriously.
Sponsored