The question caught me off guard. On the surface, it was so simple: "What's your favorite food?" The problem was, I had no idea. It wasn't for lack of experience; I cooked every day for my family of five. The menu consisted of a rotating cast of culinary characters least likely to offend anyone's picky taste buds. Mushrooms, peppers, seafood, kale and zucchini were decidedly off the menu. Tacos were always a winner, as was spaghetti. But what was my favorite food? Truth was, that stopped being a consideration long ago.
I'd spent a semester in Italy as a young college student. The food – and the simple, slow adulation of it – was the first thing that came to my mind the day I couldn't remember what I liked to eat. This seemed the best place to start.
So I stopped into Centralia Timberland Library and checked out a book: Bella Figura: how to live, love and eat the Italian way.
Bella Figura is a common Italian term which basically means to beautify one's life – both inside and out. And it's not to show off. It's simply to savor the sheer joy of living.
This book resulted in a months-long project that reintroduced me to the simple joy of my own life here in Centralia.
First, the Food
When was the last time you really enjoyed a meal? Not just noted that it tasted good, but truly savored the experience? And when was the last time you really loved a dish you made yourself? For me, it was … not in recent memory.
To begin, I logged into my Timberland Library online account and ordered upwards of 10 Italian cookbooks, which were conveniently delivered to the Centralia location for easy pick up. Then I set to work. I started with a basic marinara sauce over bowtie pasta.
I selected the most vibrant produce from Jeremy's Market & Fruit Stand. They were lovely specimens and I reveled in the joy of simply holding them.
The scent of onion and fresh-chopped garlic simmering in a pool of pearlescent olive oil was tantalizing. The splash of juicy red tomatoes into the golden liquid was visually enticing as well. By the time dinner rolled around, I had already enjoyed the meal more than I had in years – and I hadn't even eaten it yet. The final product did not disappoint.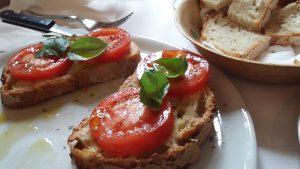 From there, I branched out to new recipes – some a smashing success (fresh caprese on sourdough) and others not so much (a botched Italian Wedding Cake that would have ruined anyone's nuptials). But it didn't matter if it was a success or a failure – it was an adventure! More importantly, it was delicious. I actually started looking forward to dinner each night, rather than dreading it.
Of course, the kids didn't like everything I made, but there was an abundance of healthy food on the table and I realized my obligation ended there. I didn't have to make everyone happy all the time. They would be just fine – and they were.
And when I didn't feel like cooking? Boccata Restaurant is absolutely divine.
Savor Your Space
While I was reinvigorating my menu, I took another tip from Bella Figura and began beautifying my space. I've never been particularly good at (or concerned about) decorating. To me, once a picture's hung on the wall, you're done. In my mind, efforts are better spent almost anywhere else than narrowing down just the right hue of drapery. As such, cultivating beauty in my home was a bit of a tough sell.
But I decided to give it a try – with a little help. I stopped into Centralia's Pioneer West Garden and Pet Center and I picked up three lemon trees. Fortunately, the garden attendant explained how to care for these rather tender plants (hint: it's not easy) so I swapped them out for something more hardy: two Iron Plants, a fern and some cute little succulants. The garden expert explained that Iron Plants come by their name honestly; they're hard to kill and tough as iron. For someone with a decidedly black thumb, this was the perfect fit.
I was surprised how much better my house felt with these robust plants inhabiting each corner. The air felt better too, and so did I. A friend even noticed the difference.
This spurred me on to other endeavors, including painting one wall a vivid burgundy with paint from Lincoln Creek Lumber Ace Hardware. I also strategically placed a few automatic air fresheners around the house, so it always smelled like cinnamon. I was pleasantly surprised by how these minor adjustments made life more enjoyable.
Face Forward
As I cultivated my space and relished my meals, I noticed myself naturally spending a little more time caring for my appearance each morning. A long-time online worker, appearance had never really been a priority for me. As long as I was dressed and showered, I was good to go. But a beauty routine? Waste of time and money, I thought.
And I largely still do.
But I did find myself enjoying my morning routine more. I took a little more care in selecting my outfit. I actually took time to fix my hair a little better than normal and I felt good about it all day. I even went down to Centralia Beauty College and got a trim. I felt pampered without breaking the bank and got to support someone's higher education.
Speaking of which, I also started attending Centralia College's Lyceum Lecture Series. This weekly session features a fascinating array of speakers on a wide variety of topics. The goal? Improving people's lives through lifelong learning. The ongoing series makes me feel enlivened and engaged. I'd highly recommend it.
Another way I enjoy "fare bella figura" is with a little true relaxation – not just vegging out in front of a screen. I find a nice massage or acupuncture session from Medical Massage and Acupuncture does just the trick. And a head-to-toe checkup from Chehalis Naturopathic Medicine's naturopath works wonders.
You don't have to go to Italy to fare bella figura. There's plenty right here in Lewis County to savor every day, all year long.