Marycolleen Foley knows metals. As Continuing Education teacher of artistic welding, blacksmithing and forging classes at Centralia College, she has shared her love of welding with students – both young and old – for the past five years. She helps them turn metal "junk" into decorative art pieces for their homes and yards.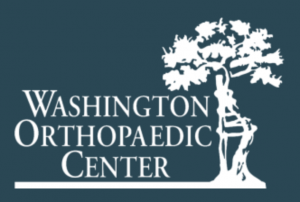 Foley's 10-week courses are limited to 12 students per class and are open to individuals 16-years-old and up. One current student is 81-years-old. Senior citizens make up 70 percent of her classes and 30 percent are high school graduates or college students. "I just love it here," Foley says of Centralia College.
After graduating from Capital High School, Foley went to Evergreen College and got her bachelor's degree in fine arts and welding. She wanted more education in welding and earned degrees from South Puget Sound Community College and Centralia College where she got her certification in welding.
Most of Foley's beginning welding students come to her with little or no experience. She spends the first four sessions instructing students in the safe use of equipment, since they will work with flammable gases and high temperatures. But there are no quizzes. "They learn at their own pace," Foley said. "They come in knowing nothing and leave equipped with safety guidelines."
Many of these students go on to intermediate/advanced classes once they have an idea or project in mind. Jacqueline Baltunis, a local artist, is one of those students. She signed up for both the beginning and intermediate classes and has a project for each one. Using scrap metal found on her farm in Adna, she fashioned a giant dragonfly. Each "eye" on the wings is individually cut with a welding torch.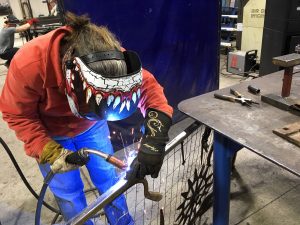 For her advanced class, Baltunis is decorating a garden gate using recycled or repurposed items such as old tools and pieces of old farm equipment. "It gives you a sense of satisfaction to take something useless and make something with a purpose," Baltunis said.
Although she was not raised on a farm, Baltunis always wanted to live on one. When she acquired a 19-acre farm in November of 2018, she planned to concentrate on her artwork. But first, she plans to renovate a barn and create a functioning workshop using her newly acquired skills. "I am learning what I need to do," Baltunis said.
Jester Purttman of Olympia decided on an unusual Christmas gift for his family. He enrolled himself, his son Merak, and his nephew, Mason Burnhart, in Foley's blacksmithing and forging class on Friday nights. When his daughter, Adi, learned about it, she insisted on being included. His wife, Melissa, didn't want to be left out, so her husband enrolled her too.
Since then, they have made forging tools, decorative leaves, street numbers, and Merak is thinking of making a large letter opener like a dagger. For Melissa, the best part is hanging out with the kids and doing something different than playing with cell phones.
"We all talk about the same thing when we go home," Jester said. The family is thinking of taking the artistic welding class next semester.
Age has no limits in metalworking. Cecil White is 81-years-old and still follows his interest in making medieval weapons. His latest projects are a halberd and a dagger he calls an "Arkansas toad sticker." They are both as deadly-looking as the originals.
Another student, Sandy Burnett, is 70-years-old and is taking the beginning welding class with her husband, John. Together they made a pig sculpture from a small propane tank which will decorate their yard.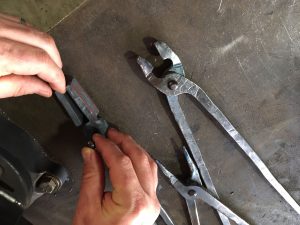 Welding goes deep in Foley's family. Her father has welded for over 55 years, starting at the age of 20 and continuing today at the age of 74. He owns a store in Eugene, Oregon and makes custom jack stands for any vehicle from a Jeep to a semi-truck.
Like many other things, "Blacksmithing is becoming a dying art," Foley said. Colleges that once had forges no longer use them. "I'm doing all I can to keep this class going in Centralia," she said.
Foley starts her day early with a commute from her home in Olympia to her full-time job at Tractor Supply Co. in Kelso. At the end of her work day, she heads to Centralia College to teach night classes from 6:00 to 9:00 p.m. Wednesday through Friday. Then it's back to Olympia with occasional visits to the animals on the farm she bought in Toledo.
It's a full day, but a fun one for Foley. "It's fun to see what comes out of these classes," she said.
For more information on Centralia College's welding classes, call 360-623-8940 or visit www.centralia.edu/academics/cont-ed.