Scooter Butt Durand is a true rags-to-riches story, at least for a dog. He went from near death to superstar on the American Rescue Dog Show.
Scooter was just eight-months-old when he was found abandoned at a casino in Tacoma.
Fortunately, his fate soon took a turn for the better. A woman in a brand-new BMW found him. He was dragging his back feet, covered in sores. The woman scooped him up and got him water. She then reached out to Patti Angeliz Sugita at Valhalla Canine Rescue in Winlock.
Patti took him to a Tacoma veterinarian, who advised her to put him down. They thought he had been hit by a car. But Patti already knew Scooter was a special dog and his story wasn't over. She took him home.
She and her personal veterinarian thought neutering Scooter could help him walk. Funds were raised for the surgery. There were complications but Scooter recovered. And he started walking better with the help of a wheelchair.
An MRI was necessary, so more funds were raised. One woman made key chains that looked like Scooter and singer John Shipe put on a concert for him.
The MRI revealed neuroblastoma on Scooter's spine, which was causing his mobility issues. His tumor was removed and Patti began months of physical and water therapy. Scooter also underwent two years of chemotherapy. When all was said and done, the treatments cost around $10,000.
Finally, Scooter was able to walk, run and play like other dogs. He was adopted by Michael Durand and Mellisa Lemons. "Valhalla really saved him," says Mellisa. "It's amazing what Patti has done for this dog. We are so blessed to have him and can't say enough good things about Valhalla Rescue."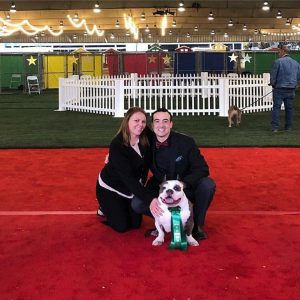 Patti made sure Michael and Mellisa's home was right for Scooter. "Everything they did was phenomenal," she says. "They have done really well with him. A lot of people wanted him. I wish I had a thousand people like them. Then every dog in Lewis County would have a home."
Michael, Mellisa and Scooter are one big happy family, along with a pair of bearded dragons named Kermit and Miss Piggy. Kermit and Scooter are like brothers. "They do really well together," says Mellisa. "Scooter is shockingly great with him."
Scooter is not fond of most other dogs and prefers to hang out with Kermit. When the family dog-sits for Mellisa's dad's rat terrier, Lucy, "Scooter gets an attitude," says Mellisa. "I once threw a toy to Lucy and Scooter grabbed it. He left it in the yard after he peed on it, but that's as far as it goes with them."
But Scooter's big heart showed when Lucy was frightened by fireworks. "She was so scared, she crawled up in his bed and he allowed it," says Mellisa. "She was very upset and shaking. It was really sweet."
Scooter was recently featured on the Hallmark Channel during the American Rescue Dog Show in California. He was a semifinalist for the best snore category. It was a chance to win money for Valhalla Rescue and help promote adoption over pet shopping.
Mellisa encourages others to find a rescue pet. "If you're lonely or thinking about getting a dog, look online or at your local rescue," she says. "There are so many dogs in need of love. My dog has given me more than I could ever give him. In a way, they rescue you more."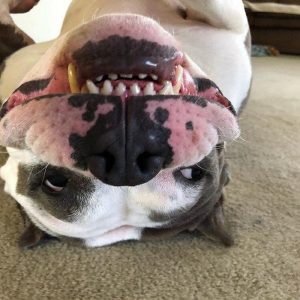 And it goes both ways. "He really hit the lottery with his family," says Patti. "I can't imagine him being anywhere else."
Patti came to Winlock from Seattle and found a community who is supportive of her efforts. She helps improve animals' lives through rescue, community support and education programs.
As a 501c3 nonprofit, Valhalla Rescue offers an animal food bank for Lewis County residents. They also provide a low-cost spay and neuter program for dogs that includes microchip and vaccines. Patti helps those experiencing homelessness care for their pets. Donations are welcome and they keep a list of current needs on Amazon.
"Thank you to everyone that has welcomed us to the community," says Patti. "People here helped provide foster homes, dog food, and point us to people who need help. We feel the love from everyone."