Hippocrates once said, "Wherever the art of medicine is loved, there is also a love of humanity." This sentiment perfectly describes Dr. Chad Bender of Washington Orthopaedic Center, who loves the art of medicine and those he serves.
Dr. Bender has traveled the world, treating veterans, soldiers and their families from Korea to California, and Washington D.C. to Germany. During his military career, Dr. Bender served two deployments to Afghanistan, treating both Afghan civilians and soldiers injured in the war. He continues to serve our country as an orthopedic surgeon in the United States Army Reserves and remains eligible for other deployments as needed.
He also served as Chief of the Department of Orthopedic Surgery and Rehabilitation at Landstuhl Regional Medical Center in Germany during one of the busiest times of the war. This hospital is the sole option for U.S. service members in the area and people would travel up to five hours just for routine civilian injuries.
Landstuhl is also the hub for evacuating injured soldiers from Iraq and Afghanistan on their way back to the United States. At times, Dr. Bender had as many as 20 amputees and blast injury patients to care for, before transitioning them to Walter Reed National Military Medical Center.
Dr. Bender also served on a humanitarian mission to Honduras, where he helped a young boy who lost his thumb in a machete accident. Dr. Bender helped the child regain his gripping ability by rotating one of his fingers to the thumb position – a creative solution that worked, giving him full use of his hand.
Before coming to Washington Orthopaedic Center, Dr. Bender worked at Madigan Army Hospital. When his formal military obligation ended, he wanted to serve a small community. He and his wife, who served as a military psychiatrist, selected Lewis County for its rural, open feel, as an ideal place to raise their young daughter.
"I look forward to being here a long time and being a part of the community, learning more about it, being involved in it and doing my part," says Dr. Bender.
Dr. Bender spent his own childhood in a rural area in Arkansas, where he assisted on his father's commercial chicken farm. In school, he liked science and helping others. His high school biology teacher encouraged him to follow his interests, which – after shortly considering accounting – led him to the medical field.
In medical school, Dr. Bender discovered a passion for orthopedics. "I enjoy the constructive thinking you have to do to put people back together," he says. He especially likes the detail work and finesse required for hand surgery.
After earning his medical degree from the University of Arkansas, he completed an orthopedic residency at Tripler Army Medical Center and hand surgery fellowship at the renowned Walter Reed National Military Medical Center. There he cared for those injured in the war, as well as families, retirees, and those with routine sports injuries. He is the first fellowship-trained hand surgeon at Washington Orthopaedic Center.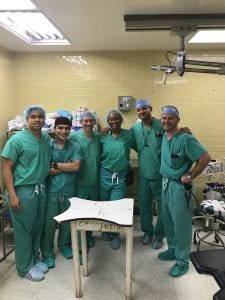 Dr. Bender finds lifestyle-improving surgeries most rewarding, like helping people with arthritis to hold things again, or releasing nerves and repairing tendons from carpal tunnel syndrome or after a laceration. "I like to give people function back that they wouldn't have otherwise," says Dr. Bender. "Anytime someone lacerates their hand, repairing that allows them to do their daily activities again."
Dr. Bender treats a full spectrum of injuries and ailments affecting the hand, wrist, forearm and elbows, including many complex conditions, which have a direct impact on function and lifestyle. Now clients of Washington Orthopaedic Center can receive tendon and nerve repair, hand joint replacements, and arthroscopic and minimally invasive surgeries.
"I'm already seeing a wide variety of patients here," says Dr. Bender.
Offering arthroscopic and minimally invasive surgery, fracture and trauma surgery, hand joint replacements, and tendon and nerve repair, Dr. Bender is an outstanding addition to the Lewis County medical community. We're clearly in good hands.
Washington Orthopaedic Center
1900 Cooks Hill Road
Centralia
360-736-2889
Sponsored