When Adna High School's Ashton Dowell edged Darrington's Gage Burtenshaw to claim the 152-pound championship at the Class B state wrestling tournament, he forever etched his name in program history by becoming the first Pirate ever to capture a state title.

But when you ask Dowell about his massive accomplishment during his junior season, you'll learn that winning the individual crown was just part of his ultimate goal.
"I wanted to be the first [state champion at Adna]," said Dowell, who posted a 4-3 victory over Burtenshaw in the championship round. "It was really exciting and that was my goal, but I want to be the first of many state champions here."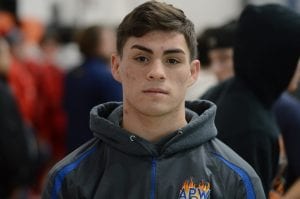 The program may not have to wait as long for its second state championship. Adna, despite having just seven athletes on its roster this year, features three of the top wrestlers in the B classification: Dowell, fellow senior Matthew Slape and junior Lucas Ashley.
"Above his own goals, Ashton also sees the importance of this program," Pirates Head Coach Craig Ferrier said. "He wants to see everyone succeed."
Never was that more on display than at last year's Mat Classic.
"Even more than winning a state championship, he's more focused on the team," Ferrier said. "Last year he knew if he won that match [in the state finals] we'd bring home our first team state hardware ever. I told him before the match to not even think about that and just focus on his match, but he's such a team player, he's going to worry about that."
In addition to securing a state individual title, Dowell's victory also gave Adna the third-place team trophy – the program's highest finish ever.
Dowell, who also finished third in state as a sophomore, now looks to become the Pirate's first-ever back-to-back state titlist.
"People come up to me and ask if I'm going to win state again this year," Dowell said. "That's my goal and I want to, but it's not a guarantee. You have to keep your focus and stay motivated towards the goal."
An Associated Press honorable mention all-state tight end, Dowell helped the Pirates to a 12-1 record and state semifinal appearance in football this year, bulking up to 185 pounds during the season.
He has since settled into the 170-pound weight division, which is stacked this season in the B classification as it features a pair of returning state champions and several state placers.
Chewelah sophomore Kaden Krouse won the 1A 170-pound state championship in 2018. The Cougars have since been reclassified and now compete in the 2B ranks, which sets up a potential all-state champion finals this year between the two.
"It's exciting to see that," Dowell said about the added competition in his weight division. "It just doesn't happen very often where you get two returning state champions at the same weight, but you always want to wrestle against the best out there."
According to Washingtonwrestlingreport.net, Krouse is the No. 1 ranked 170-pound wrestler in the B classifications and Dowell is ranked second – something that suits the Adna senior just fine.
"There's a certain pressure with being ranked No. 1," Dowell said. "Last year I was ranked second for most of the season, but at the end we flip-flopped and I was ranked No. 1. It takes some adjusting because you have that target on your back. I'm just fine being ranked No. 2 right now."
Dowell already holds a win over one of the top wrestlers in his weight division this season after defeating Raymond's Jack Jordan, who is No. 3 in the rankings, 5-0, in the finals of the Willapa Harbor Invitational on January 19.
Dowell and Jordan could square off again at the Region 1 regional championships at Adna High School on February 9.
"Ashton's the defending state champion, but he is always telling himself, 'I can still get better,'" Ferrier said. "He knows there is always someone out there who wants to take it from him, and that's why he works so hard."
Also appearing in the rankings is Slape, who is ranked third in the 160-pound weight division. The senior is a three-time state placer, having finished sixth as a junior, second as a sophomore and fourth as a freshman, and is one of the main reasons Dowell is a defending state champion.
"Matthew is definitely the reason why I'm able to compete for a state title. It's because he's wrestling with me every day," said Dowell, who has drawn interest from several colleges, including Arizona Christian and Southern Oregon. "My success level and how far I've gotten would be way different if he wasn't in the room working with me."
Dowell and Slape will both get their chance to end their high school careers with a state title at this year's Mat Classic. The annual state tournament will be held in the Tacoma Dome February 15-16.