There's nothing better than a nice long road trip. Whether it's crossing the country with family or out in the wilderness with friends, it's sure to be a great experience. The adventure always begins with loading the car. Gear such as skies, snowboards, kayaks and bikes take up a lot of room. And riding in a bulging vehicle is never a fun way to start. But just in time for the holiday travel season, I-5 Toyota has Yakima accessories to make those road trips comfortable and easy.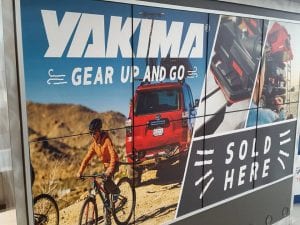 Yakima products help vehicle owners get the most out of their ride. Located in Lake Oswego, Oregon, they know the Pacific Northwest. Their utilitarian products are made to withstand the rugged outdoors, designed by people who understand the challenges of hauling gear. "There's anything you can think of for the outdoor recreation person," says Duane Stutzman of I-5 Cars.
Traveling to grandma's house this Christmas will be a breeze, even with all the gifts. Yakima offers a selection of cargo boxes, bags and baskets in several different styles. With storage capacity from 8 to 20 cubic feet, there's something for all families and adventures. Your ride will be more comfortable without so much stuff, making long road trips more enjoyable for all.
Hikers and adventurers love Skyrise tents, which attach to your vehicle transforming the rooftop of your car into the ultimate campsite. Unlike other tents, they come with a foam mattress for the maximum in comfort. Skyrise tents are great for limited space events like concerts or festivals. Pop off the rain fly and enjoy the stars from the top of your car or truck.
Snow lovers will find several options to get their skis and snowboards to the mountains. And there's a solution for any size car, fitting up to six pairs of skis and up to four snowboards. With the right Yakima accessory, there will be plenty of room for passengers to join the snow adventure.
Fishing and water enthusiasts enjoy their kayak and canoe mounts, which fit up to four kayaks. Some also come with load assist. It has never been easier to get your personal boat in the water. Truck users will like the hitch mounted truck bed extender that holds kayaks, boards and other long loads.
Yakima has many options to help mountain bikers and cycling enthusiasts get their bikes where they need to go. With mounting options for truck beds, car tops, hitches, trunks and spare tires for up to five bikes, the selection is outstanding. Various bike attachment points are also available to provide trunk access with tray, swing and tilt options. There's even a tailgate-mounted bike pad to protect your truck bed.
Yakima has innovative solutions for everything you need to transport. Foam crossbar pads and padded roof racks hold boards, boats and other loads with ease. Hunters and outdoor lovers will find these utilitarian accessories useful for all sorts of tasks.
If you still need more room in your ride, maximize space by adding a sturdy, lightweight aluminum trailer. The RackandRoll trailer easily stores upright in the off-season.
Yakima products are built to last and designed for the rugged outdoors. And they back their roof racks, mounts, accessories, cargo boxes and baskets, and bike hitch racks and mounts with a limited lifetime warranty.
Make this holiday season one to remember – and enjoy all year round – with Yakima accessories from I-5 Toyota. "They would make great gift items, especially for Christmas," says Stutzman. "There's ample time to order and get what you need in advance. We have the facility to hold it, so you don't have to hide it since they can be rather big."
Shop local this year with the helpful staff at I-5 Toyota. "I'm a firm believer in shopping local," says Stutzman. "It keeps the money in the county and the community."
I-5 Toyota has several charitable campaigns to benefit the community each year. Events like the annual Back to School Dash 5K run/walk helps local schools with student scholarships. "We're all really big on supporting local activities, and supporting the customers and the community," says Stutzman.
And you'll save on shipping if you buy locally from I-5 Toyota. "You can get these bulky items without paying to ship," says Stutzman. "There's no shipping if we order it. Shipping would be expensive with such large and heavy items."
Create your own mobile adventure with Yakima and I-5 Toyota. Haul everything you need for winter fun and get ready for warm weather excursions in the spring. Your next adventure will be so much more enjoyable when you can easily and efficiently haul your gear.
I-5 Toyota
1950 NW Louisiana Ave
Chehalis
Sales  844-320-8392
Service 888-906-6951
Sponsored