Mount Baker Ski Area is a tranquil bit of paradise and a fun family getaway, located near Bellingham in Whatcom County. It boasts the most annual snowfall of any ski area in North America. In fact, they still hold the world record – set during the 1988-89 season – for the most seasonal snowfall: a whopping 1,140 inches (95 feet) of snow. Marketing Manager Amy Trowbridge says they "routinely receive twice the snowfall of Stevens Pass, which is just 70 miles south."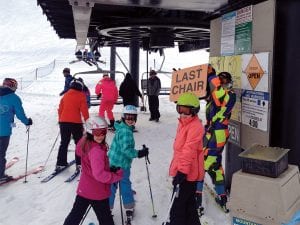 People come from all over the Pacific Northwest to ski Mount Baker. In addition to their incredible amount of snow, they're unique in comparison with other options. For starters, Mount Baker Ski Area is independently owned – one of the few left in North America.
It was started by a group of locals in the 1950s and many of the original owners or their heirs are still involved. This is rare in this industry, and becoming more so. In fact, just in the last six months, Trowbridge says Stevens Pass and Crystal Mountain, both in Washington State, have been purchased by large corporations that own and operate ski areas all over the country.
The Mount Baker Ski Area is a modern and up-to-date facility featuring eight fixed-grip quad chairlifts and two rope, or surface, tows. They offer two base areas, each with their own day lodge, which offer beer, wine and cider service, food, equipment rentals and instructors. They also feature a mid-mountain lodge that's only accessible by ski or snowboard.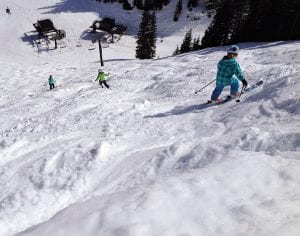 "We're actually considered one of the original places for snowboarding – a mecca," explains Trowbridge. "We've never not allowed snowboarding. Even when others were banning the sport, Mount Baker Ski Area welcomed them." They came in droves – and still do.
"We're famous for our expert terrain," Trowbridge continues. Thirty-one percent of Mount Baker's runs are dedicated to experts. And there are plenty of options for beginning and intermediate skiers and boarders, as well; 24 percent of runs reserved for beginners and 45 percent for intermediates. The area's 38 runs are uniquely structured, not distinctly cut swaths running down the mountain. They cover an extraordinary amount of terrain in a natural way, as they're braided. The experience is more of a mountain adventure than a highway.
Located just ten miles east of the Mount Baker volcano, the ski area receives orographic snowfall. This begins from moisture-laden marine air rising over the volcano where it receives an uplift and cools. As it moves east over the ski area, it dumps all of that lovely snow in just the right place.
Mount Baker is in the marine snowpack, like much of the West Coast, and enjoys a heavier, wetter and warmer snow. It's ideal for snowboarding and the shorter, lighter and wider modern skis we see today. This combination creates a "great float" and makes the skiing even more fun.
Mount Baker Ski Area doesn't offer overnight accommodations, but there are plenty of options to extend your stay on the mountain through short-term vacation rentals in Glacier, or hotels, inns and resorts in Bellingham. This keeps the ski area focused on what they do best: skiing and snowboarding. Further, staying overnight in outlying areas invites the savvy visitor to explore many other fantastic opportunities for winter fun nearby.
Skiing and snowboarding may be the most popular forms of winter recreation, but there are plenty of other snow options, too. Relax at the lodge and enjoy the ambiance. Explore the serenity of the woods on snowshoes. Take the family for a wild ride on a sled. After all, Whatcom County offers ample opportunities to snowshoe, cross country ski, sled and more.
Mount Baker Ski Area usually opens on or around Thanksgiving weekend. Check their website for details. They generally remain open until closing day at the end of April. Purchase passes on their website or on the mountain. If you prefer to plan in advance, they also offer pre-season discounts for season passes. Don't miss their fifth-graders ride free program, Santa photo opp, Golden Egg Hunt and more. See their events page for full details.
From record-setting snowfall to world-class skiing, snowboarding and everything in between (ice skating too!) head to Whatcom County and Mount Baker Ski Area. You'll find plenty of powder-related fun for everyone – and don't forget the hot chocolate!
To receive maps or assistance planning your Mount Baker getaway call the Bellingham Visitor Center at 360-676-3990, email tourism@bellingham.org or visit Bellingham.org.
Sponsored