Grab your mittens and throw on a festive scarf – it's time to bundle up for the much anticipated annual Santa Parade! The big man himself will be making his yearly stop in Chehalis on Saturday, December 1 from 11:00 a.m. to 12:00 p.m. Now in its 69th year, this family-friendly event is all about holiday festivities and good tidings.
Enjoy the enchantment of the season with Gingerbread Village-themed floats. Excite your children's imaginations with the joy of seeing Santa. But don't listen for the clatter of reindeer hooves on downtown streets. Santa's sleigh is unavailable, preparing for gift deliveries to all the good children on Christmas Eve. Fortunately, our local firefighters are here to save the day! Look for Santa riding in style atop a big red fire truck.
This local tradition is a fun way to kick off the Christmas season. "It has always been a wonderfully attended event," says Alicia Bull, executive director of the Centralia-Chehalis Chamber of Commerce. "Our community is really excited about parades in general and holiday cheer."
And the Santa Parade is just the beginning. Centralia's nighttime Lighted Tractor Parade is the following weekend. "A lot of people will do a float with us and then put lights on it and it looks completely different," says Bull. "It's fun for people to participate in both events."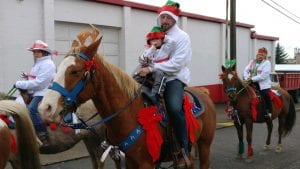 There's still time to enter the Santa Parade with your most creative Gingerbread Village-themed float. Registration is available online or at the Centralia-Chehalis Chamber of Commerce.
The annual Santa Parade is also a giving opportunity. The parade participant who is voted "overall best" will receive a $500 check to give to the nonprofit of their choice.
Parade spectators have a chance to give back too. Since it takes place during the annual Walk and Knock for local food banks, a vehicle will be parked on the side of the stage on Market Street, collecting non-perishable food items and toiletries for those in need.
If the weather is chilly, warm up with a hot beverage. Dutch Brothers will be on hand with free hot chocolate for kids and adults can get a free hot mocha from Market St. Bakery. These will be distributed in limited quantities of one per person, compliments of Market St. Bakery and the Chamber.
This year's Santa Parade Grand Marshal is Lewis County Sherriff Rob Snaza. Look for him leading the charge in a convertible from I-5 Cars.
Regardless of the weather, Market Street will be white thanks to a fun snow machine. This winter wonderland is for everyone to enjoy. "It's a really awesome feel-good event," says Bull. "The lights and decorations are up downtown and it looks really festive."
The creativity of each parade float is a highlight every year. "It's so fun to have the local high school bands, schools and youth organizations," says Bull. "The local businesses get festive and bring out their equipment. Some people work on these floats for months. They call and talk to us about the theme because they plan early getting their floats prepared."
Popular Masters of Ceremonies Steve Mohney and Ron Hall will announce the parade as it makes its way down Market Street. "They have a lot of holiday cheer and do a good job," says Bull. "They're a tradition that falls in line with Santa and they do really make the event extra special."
This is a great time to get some holiday shopping done locally. Downtown merchants are open with special holiday events and sales. "It's a great chance to choose local first," says Bull. "Take the extra time and get to know downtown a little better."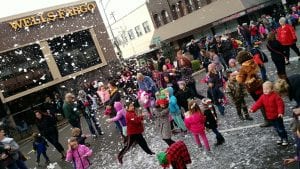 Stop by Book N Brush before the parade for a special reading of The Night Before Christmas. While the kids are occupied, grab some stocking stuffers or great books to put under the tree.
Adults and kids age 12 and older can learn how to make upcycled gift bows and tags, sponsored by the Friends of the Chehalis Timberland Library. DIY Bows and Gift Tags begins at 2:00 p.m.
Kitty Kat Haven will host an Adoption Event following the Santa Parade at Totally Pawsome. Stop by and meet wonderful kitties looking for families to call their own. Hint: a new cat is a delightful Christmas gift.
Local families have enjoyed the annual Santa Parade for nearly seven decades. "The community comes together and does a lot that day," says Bull. "It's a special time for the city of Chehalis." Make holiday memories with your family at the annual Santa Parade.
Sponsored