Visitors to White Pass will soon have another great reason to linger. Packwood Brewing Company, a brewpub right on the White Pass Scenic Byway, will open in a store front built in 1933. The building sits at a slight angle a block east of the White Pass Country Historical Museum, in Packwood's business district. It remained decrepit a long while, but the brewing company owners have restored it. "It has good old bones," says owner Megan Steel.
She and partners Tina Simons and Jamie Mesaros worked diligently over several months to rehabilitate and preserve the historic building. Over the years, it housed the Save More Store, the Tatoosh pharmacy and a couple thrift stores.
When the building became empty, Tina hit upon the idea of a brewpub. She asked Megan and Jamie to join her, knowing they would be all in. They agreed, seeking an exciting new venture. "We're all leapers," says Megan. "We knew we wanted a life change and something that felt right."
United in purpose, they combined their gifts to make the project happen. Megan brought graphic design skill to the team, while Jamie is a mechanic and jack-of-all-trades. "I can't imagine doing it with anyone else," says Tina.
Tina has brewpub experience, as her husband founded Harmon Brewing in Tacoma. But Packwood Brewing Company has their own recipes and brews their own beer, including a coffee porter created in partnership with Packwood's Mountain Goat Coffee. The brewmaster lives locally near White Pass.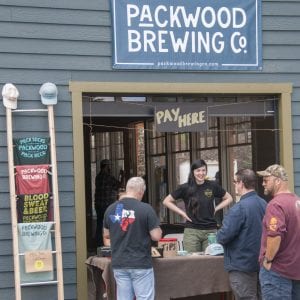 When asked how the partners met, Tina says emphatically, "Vanagons," while Megan and Jamie nod in agreement. A Vanagon is one of those Volkswagen bus campers that have been a mainstay among the hip motor camping set for thirty years. Tina's was a hippy bus that Jamie helped bring into good working order. At one of the pre-opening events, Vanagons lined the back fence of the courtyard like a parked convoy. Jamie and Megan's looks like no ordinary Vanagon though. Ruggedized to fit the type of exploring and adventure they like, it might be the offspring of a regular Vanagon and a Stryker task force vehicle.
The building had its share of challenges. They were unsure what they would find inside. "Packwood Brewing was never a question, because Packwood needs it," says Tina, "but the building was definitely the one question." Delays until wiring could be repaired or the structure was given the inspector's okay, naturally occurred. During long days spent at the site, at least they had the Vanagons to sleep in.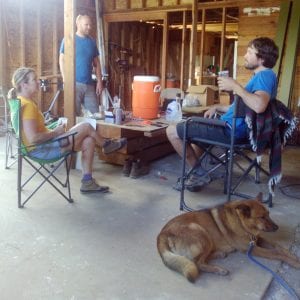 While working on the restoration, the partners found tools left behind and several amazing artifacts hidden in the walls; a frequent practice of early builders. In several places, the builders signed their names. One, who must have been a baseball fan, left several baseball cards posted in the walls. These date to 1933 because that's the only year one of the players, Herold (Muddy) Ruel of the St. Louis Browns, played for that team. Also among the fun finds is a diorama featuring the "Alka-Seltzer Barn Dance – Every Saturday Night."
The Packwood Brewing Company partners understand Packwood has had highs and lows. "We hope this project becomes a catalyst for beneficial change," says Jamie.
Megan, Tina and Jamie envision a community gathering place. They've held several outdoor beer gardens and music events in the spacious adjacent courtyard while finishing touches are underway inside. They plan additional events before opening. "We want to be the epicenter for people exploring the area," says Jamie. "What's an easy hike? Or where can I ride my mountain bike? Or where can I take my kid fishing for the first time?"
At the first pre-opening event during Packwood's Labor Day Flea Market, a crowd gathered to sample the beer and listen to the partners discuss their project. A buzz of excitement seemed to fill the air. A guitarist strummed folk tunes while dozens of conversations flourished. "The beer is real nice," said a couple women gathered around one of the fires burning in the courtyard. They often visit to see their folks living in the area. "It's great to see a place like this opening up here."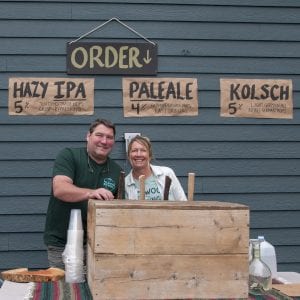 While Jamie operated the beer garden entry, he shared hopes for what Packwood Brewing Company will bring to town. Jamie's father Dave, who was there that first day, said of his son, "He works well with people. He's in his element."
Look for the opening soon; drop in for a beer, meet some fellow travelers and learn about things to do in the area. Or get expert advice on the legendary Vanagons.