Kids run, talk and twist their bodies like only the young can do, as they make chalk "artwork" on the parking lot. I weave my way through the gauntlet of kids to the Boys & Girls Club of Chehalis. I'm there to chat with their new Executive Director, Lauren Day.
"Are you going to work here?" asks one little boy, his eyes narrowing in suspicion.
"No, I'm just here to talk to someone," I respond.
I'm not sure if he's asking because he thinks I look like a good candidate or a bad candidate. Kids – you never know what they're thinking or what they're going to say. That's why they're so entertaining to work with, something Lauren Day enjoys.
A lifelong resident of Lewis County, Day just began working at the Boys & Girls Club of Chehalis on June 1, after seven years commuting to Grays Harbor to work as Director of Communication and Development for Summit Pacific Medical Center. A quiet, reserved person, she laughs when she talks about how she found out about the job at the Boys & Girls Club. "I just saw the post on Facebook that they were looking for an Executive Director and I applied. After that it was a bit of a whirlwind of interviews and now here we are."
Day is grateful for the opportunity to reduce her commute so she can spend more time with her two-year-old son and four-year-old daughter. "Being closer to kids, family and the community where we live is really wonderful," she says with a smile.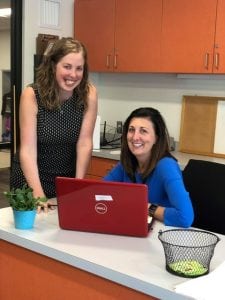 She's also happy to continue working at a non-profit. "It's part of my personality and what I believe in," she says. "I like working for a cause and having the satisfaction of seeing how my work impacts lives. I not only love to watch the kids grow and develop but also witness the impact of our work on our staff team, the kids' families and the community over time."
Day is excited to help the Boys & Girls Club of Chehalis continue to grow in the county. The club officially opened in September of 2017. They just wrapped up their first school-year program and launched their first summer program.
The facility is beautiful and functional. Downstairs holds a small gym, kitchen and a game room with pool tables and other games in the downstairs area. "It was all donated," says Day.
Upstairs are classrooms holding a variety of fun activities. Kids are working in the science room building volcanoes. Another room houses tablets which Day says are connected with the Chehalis School District system so kids can log in and work on homework.
Day is particularly impressed by the club's community support. In order to open the doors, the community worked together to raise $1.5 million and recently, for summer camp programing, the club received over $13,000 in donations, which supplied many kids with scholarships to attend. The criteria to receive a scholarship was similar to requirements for free or reduced school meals. Although the club collects a small membership fee from club members, the cost to operate is dependent on continued donations and grants.
The next opportunity for the community to support the club will take place August 17 when Pacific Mobile Structures hosts their 9th Annual Golf Tournament to support both the Boys and Girls Club of Chehalis and the Pacific Athletic Center. People can still sign up to golf or sponsor by visiting the event's website, www.birdeasepro.com/PacificMobile.
In addition to financial help, community members step in to teach hobbies and skills, such as yoga and crocheting. Day says they're always looking for more volunteers to share a skill or help mentor kids. "The more volunteers we have, the more we're able to expand our programming for the kids," she says.
Day has short-term and long-term visions for the future of the Boys and Girls Club. Currently, she is working on getting a good team in place for the next school year as many summer employees will be leaving to return to college. They will be opening enrollment beginning in August, so time is short. She also wants to develop good program options to get the kids excited about attending. "It's all about choice," she says. "We offer a 'menu' of options and kids get to choose what they want to do during their time with us, so we want to make sure we have a lot of good choices for them that are both fun but educational."
In the near future, Day is working to build a strong teen program that offers life skills and directed tutoring to help teens determine what they want to do for their educational and career pathways. Finally, she hopes to expand outreach into the community and eventually work on opening other locations.
In the meantime, kids have several opportunities to come and check out the club, from the full summer program, to summer camps, to just dropping in. "We want all families in Lewis County to know we're here and open to them," Day says. "I know what it's like to be bored, especially in the summer. I grew up with my parents working and I wish there had been a resource like this for me with games, trips and fun with friends."
Thanks to the Boys & Girls Club of Chehalis, that opportunity now exists.
Boys & Girls Club of Chehalis
2017 Jackson Hwy.
Chehalis, WA
360-345-1700