Our sweeping forests are an integral part of life in Lewis County. Everything from recreation to employment can be provided by the trees gracing our area. Sierra Pacific Industries owns roughly 150,000 acres of timber in Lewis and Cowlitz Counties. The company employs 200 workers at its Centralia trucking division and sawmill, which manufactures dimensional stud lumber. The Centralia facility was constructed in the Port of Centralia's Park II development in 2006 and is one of four mills in Washington.
"The Port of Centralia has been really supportive of our projects," says Lisa Perry, Sierra Pacific's Communications Relations Manager. "It was really forward-thinking of them to have ready-to-be-built-on property available. They have been good to us and support our work. They are great to work with."
Sierra Pacific is one of the largest producers of lumber in the United States. Founded in 1949 by Red Emmerson and his father, they now operate 14 mills and window manufacturing facilities in Washington and California. From growing trees to harvesting and replanting, Sierra Pacific is all about vertical integration – everything from the tree to the door.
Emmerson's three children now run Sierra Pacific and the Sierra Pacific Foundation. His grandsons also work for the company. That makes four generations – Red Emmerson's father, himself, his children and grandchildren – an impressive legacy. Sierra Pacific is family owned and operated, and it shows in the way they do business.
Sierra Pacific has jobs available for entry and skilled trades positions, and currently an open forester position. Their website has instructions on how to apply.
"I like working in the industry in general because of the people," says Perry. "It has the type of people who work hard and do the right thing. This company is a good example of that. Being family-run and family-held feels like that." Sierra Pacific offers living-wage jobs with full benefits packages.
The company also provides on-the-job training. Advancement opportunities allow entry-level employees to move up to skilled trades positions. "We have jobs where you can start out as a laborer sweeping sawdust and work yourself all the way up to mill manager if you work hard enough," says Perry. It is a way to get into a millwright or electrician position. "We can hire them direct out of school or program, or we can hire and train them ourselves."
The Sierra Pacific Foundation is actively involved in supporting local events and community improvement projects. "Community giving is really important to the Emmerson family," says Perry. "We try to work with things that the crews are involved in. We look at the community needs – every community is different. The cities and schools in timber areas tend to need support."
In Lewis County, support from Sierra Pacific Foundation makes events such as United Way of Lewis County's Chef's Night Out, the City of Centralia's Summerfest and Centralia Police Department's National Night Out possible.
"Sierra Pacific Foundation has been a wonderful partner for many years, funding United Way of Lewis County programs such as our Volunteer Lewis volunteer engagement program and numerous corporate sponsorships of fundraising events," says Angela French of United Way of Lewis County. "We truly value our relationship with Sierra Pacific and feel fortunate to have them in our community."
Children are especially important to Sierra Pacific. The foundation sponsors the Adaline Coffman Guild for Seattle Children's Hospital for uncompensated medical care for Lewis County kids. Youth sports teams are also a company favorite to support and Twin Cities Youth Football has a Sierra Pacific team every year. An employee often coaches, or their kids or grandkids are on the team.
Sierra Pacific recently contributed to the Centralia Downtown Association for the George Washington statue. "Celebrating the history of the community is important to the foundation, so we wanted to be a part of that," says Perry. The Chehalis River Basin Land Trust also receives support from Sierra Pacific. "A lot of times they are working on river property that is near to one of our mills," says Perry. "We like to support that kind of work."
Sierra Pacific not only contributes financially to community causes, they also donate products. The company provided the lumber for Centralia High School's SkillsUSA competition. They recently supplied Habitat for Humanity with lumber for a house that was built in Centralia.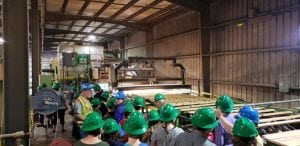 At Sierra Pacific, families often work together. The foundation not only supports the community but also employees' families. This year, two local high school seniors received scholarships from Sierra Pacific that are renewable for four years. There are many students currently advancing their educations with Sierra Pacific's help. Since its start, the foundation has given over $6 million in scholarship funds.
In Lewis County, forestry has always been a way of life. "It's really fun to be in a community like this with such a proud timber heritage," says Perry. "It has a lot of history here and it continues to support our industry well. We are happy to be here."
Sierra Pacific Industries
3115 Kuper Rd.
Centralia, WA 98531
360-736-5417