Eyes are focused on the basket. The crowd takes an inward breath of anxiety as the player sets up for the shot. He shoots … he scores! The team's hustle is infectious as spectators revel in the competition. Sports fans have seen this many times before but never on the steps of the Capitol.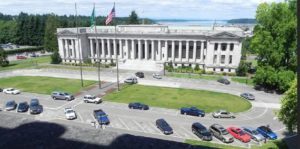 The Capital City 3on3 basketball tournament brings the fun of a sporting event to a whole new space. "To be right in the heart of that campus with Lakefair in the background really makes this a unique site," explains 90TEN Training Academy's Robin Johnson.
For their first year, 90TEN Training Academy has teamed up with Olympia's annual Lakefair to get as many people involved as possible. Event divisions are split into two categories: Elite and Standard. Within those categories, there are divisions for men and women, and teams are aligned by age. Youth teams will be split by grade level and compete against students of similar age, height and skill.
While the main attraction may be the 3on3 basketball competitions, it's not just about team play. There's a whole lot more going on than that. First, there are two events with the low cost entry of $5 each: a dunk contest and a three-point contest. Players of all skill levels can compete to see who has the most accurate shot.
Join the Fun
Need to work on your basketball skills? Students can pay $5 and learn from a pro! Renowned basketball coach, Jimmy Anderson, will lend his considerable expertise. Learn moves from this head coach of legends like Seattle Super Sonic's Gary Peyton. The experience starts at 8:00 a.m. Saturday and spots are filling up fast.
In between the competitions, explore booths from local organizations. There will be a plethora of vendors selling espresso, headbands, massage therapy and food concessions. The Army Reserve will also set up a free obstacle course allowing spectators to compete against each other. Inspire Physical Therapy will be on-site for first aid.
Basketball may be the main focus of this event but it's really about the bigger picture. "We want the community to come together," says Johnson. "3on3 basketball is really for all ages and skill levels. Starting as young as third grade and reaching all the way through retirement, there will be a division represented for competition."
The event takes place on July 14—15, 2018. Registration for teams can be completed on the 90TEN Training Academy website. They're also looking for volunteers to help run the competition.
Sponsored