It is a rare beautiful spring day. When the weather is like this, most of us want to be outside playing in it. But for one group of kids, there is something much more important. Wearing tan combat fatigues, they line up, march and respond to military commands. They look a bit young to be in the military. And they are. But the kids in the Civil Air Patrol (CAP) are already planning their futures, willing to spend their Saturdays learning adult-level skills.
The Civil Air Patrol was formed in World War II to mobilize volunteers for national defense. Major Dan Whalen heads up the Lewis County Composite Squadron, Civil Air Patrol, coming into the program after his sons joined 15 years ago. "I thought it was really cool and I stay in because I enjoy working with the kids," he explains. "Several cadets have gone on to things like flying Apache helicopters or attending the Air Force Academy," he adds with pride.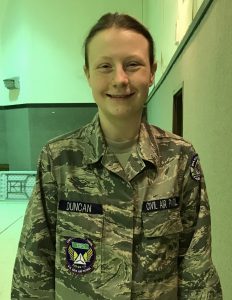 One of the biggest draws for cadets is their ability to earn their pilot license through the program. But they also learn other skills, such as character development, physical fitness, drill and ceremony, and emergency services. They have assisted the Lewis County Sheriff's Department with searches for missing aircraft, hikers and mushroom pickers. They help with unloading luggage at Centralia College for the Seattle to Portland Bicycle Race (STP), filling sand bags during floods and other activities.
The participants are happy to share their thoughts about the program. They don't break with their training as they talk, looking you in the eye, shaking your hand and standing erect.
Fourteen-year-old Holly Duncan from Adna has been in the program for about a year. She joined at the suggestion of her dad because she wants to be a firefighter. She loves learning about flying, as well as leadership skills. She's excited to go to the "Fire in the Sky" Rocket Encampment over Memorial Day weekend. When asked what she would say to other kids about joining, she smiles and says, "It's really fun. You'd like it and you get to learn all kinds of stuff."
Logan Hamm is 16 years old and attends school in Rochester. He has been in the CAP for about two years and wants to go into the Air Force. He is always looking for advancement and career opportunities. "I love learning how to become a great leader and how to share unmatched teamwork with the others," he says with maturity that belies his age. The most fun he has had so far was going to Alaska for a bootcamp-type activity. "I met some cool special forces guys," he says with a slight smile of admiration.
His advice to other kids thinking of joining is, "It's definitely a commitment but you'll not regret it. You'll learn so much, like search and rescue, aviation and leadership building."
Twelve-year-old Samuel Little is homeschooled. He heard about CAP from a family friend and is very new to the program, only participating for about a month or so. With high-flying plans of being a commercial airplane pilot, he's on the right track. "I wanted to join for the opportunities and the things you can do – I love airplanes," he smiles. In his short time in CAP he's rather surprised by one of the things he likes best – the drills. "I don't know why I like them, I just do," he laughs.
Onalaska's 15-year-old Renate Prazak is the newest member of CAP, having only joined three weeks prior. Even though she has only been in the program a short time, she speaks like a veteran with very clear direction about what the program is and what she wants for her future. "My homeroom teacher was in the Air Force and recommended I join the Civil Air Patrol," she says. "I would like to be a military pilot; I'm not sure which branch yet."
Renate is already very aware of what the CAP teaches. "You learn so many different traits like self-respect and respect for others," she says. "It really helps in all areas of life. It looks good on a resume. And it offers so many opportunities and they help guide you."
Renate hopes to earn her private pilot license and glider license by the time she's 16. And if that's not enough – "I want to work for NASA and be an astronaut," she says. "When we're ready to go to Mars they'll need all the help they can get."
Her advice to others is, "Even if you're not interested in aerospace, you'll learn leadership, character fitness and other skills that you will use the rest of your life."
With the drive and ambition of these young people, we can take heart that our future is in very good hands.
For more information, you can contact Major Dan Whalen at dan.whalen@wawg.cap.gov or 360-525-0494.